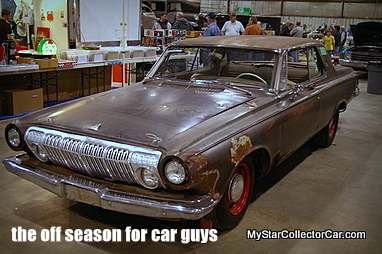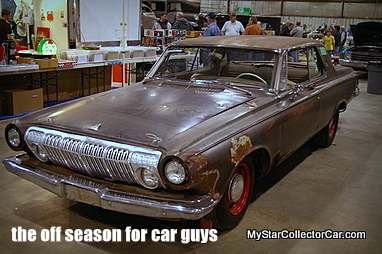 Winter is a long off-season for many car guys who have a long hiatus from the warm summer months of shows and cruises.
The lengthy cold gap between car seasons can wreak havoc on the fun factor, so car guys have to occupy themselves to avoid the lingering effects of cabin fever.
One way to handle winter hibernation is to follow the Internet buy-sell websites that connect the car guys with the world.
They may be able to find the car of their dreams, or the car part of their dreams. To paraphrase the Rolling Stones, it's just a click away.
One of our favorite online collector car buy-sell websites is a relatively new site that offers a wide variety of old school vehicles for sale by owner. Grumpy himself is a committed car guy and takes his website very seriously as a showcase for the car hobby.
Another way to pass the long winter car season timeout is the auction season. Many of us look forward to the TV festival of collector vehicles presented every January in the Scottsdale area by Barrett Jackson.
Barrett-Jackson is a great way to shed five days off January and watch a collection of vehicles paraded across the auction floor from the comfort of our living rooms.
Sure we would all like to be in the Valley of the Sun for the actual event but, make no mistake about it; this auction could not come at a better time in the dog days of winter for car guys.
The winter months are also a great opportunity to work on a project for car guys. They have an opportunity to build the ride of their dreams if they have enough talent and a heated garage to perform the magic.
Car guys have enough time to be patient in our area because winter comes here early and stays longer than the most obnoxious party guest in the history of cheap booze and bad behavior.
The net result is another Rolling Stones moment for car guys: Time is On My Side. There is plenty of time between the last bare pavement of late fall and the first bare pavement of spring to do the job right in the comfort of a shop or garage.
Winter may be a time when car guys decide to do some upgrades to their rides. It may be a time when the carb gets replaced with fuel injection or the brakes get upgraded to disc status.
A project is never truly finished for car guys and winter is a time when car guys can get closer to that highly elusive finish line.
Winter might be a time when car guys learn how to work on bright work like the right way to polish stainless steel. They may decide to build a livelier exhaust system, complete with headers, and they will have lots of time to work out the kinks in their system.
Maybe the most important element of winter is its length.
Winter makes us really appreciate those warm summer nights when we can enjoy the car shows and cruises that make summer come alive for car guys.
Jim Sutherland