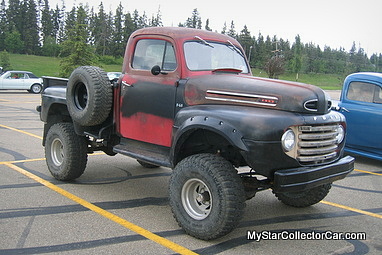 We at MSCC are a little out of the loop when it comes to kids' movies since we are well past our long lost childhood days physically, if not emotionally, in the minds of more than a few people.
We had to plead complete ignorance when it came to the name 'Tow Mater' as it was applied to a wild-looking and rough around the edges truck we encountered at a 2013 summer car show.
Hipper and much younger people than us would recognize the 'Tow Mater' name from the Disney movie 'Cars' where it was the name of a lovable cartoon tow truck in the flick.
Tow Mater was voiced by Larry the Cable Guy and he gave the truck a southern hillbilly charm that counter-balanced the complete lack of hillbilly charm in the movie 'Deliverance' from our younger years.
The cartoon Tow Mater was based upon a 1951 International Harvester pickup and the charm of the real IHC truck style was not lost on the cartoon truck. The Tow Mater we encountered was actually based upon a 1948 Ford truck with an International Harvester box sitting on a Chevy 4×4 chassis.
Its owner was a guy named Chuck Hallett and it was obvious he had a creative side when it came to building his truck. His Tow Mater tribute truck was "different" in Chuck's opinion and we consider his comment to be a master of understatement.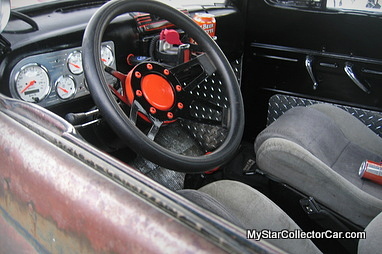 The truck was an instant hit at the show and even passed muster with little kids as a good tribute to the cartoon Tow Mater. The kids would know better than us about an authentic Tow Mater look and they gave it an enthusiastic thumbs-up.
Chuck admits he "fell in love with the truck" and loves the blend of unconventional truck components on his one-of-a-kind custom truck. His truck also has plenty of brute force at his disposal because he runs a 383 stroker under the hood of his Tow Mater.
Tow Mater is Chuck's second truck and it is clearly his favorite truck. It has character that would easily match its cartoon counterpart and Chuck likes the way people warm up to it when they see the truck for the first time.
It is difficult to describe a hybrid custom pickup truck with design roots from three different manufacturers, but that is the net result of a 1948 Ford cab with an International Harvester box and a Chevy chassis.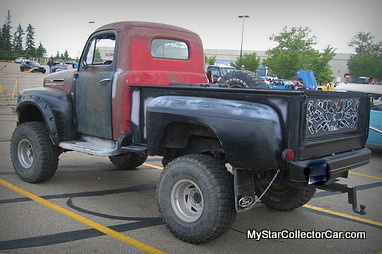 Chuck's Tow Mater tribute truck will never win any awards for beauty at a car show but it has the popularity awards locked up if kids are allowed to vote for their favorite vehicle.
That much was obvious when Chuck's truck became a real life star named 'Tow Mater' and stole the show for a very young future generation of car guys who watch Disney movies.
Jim Sutherland