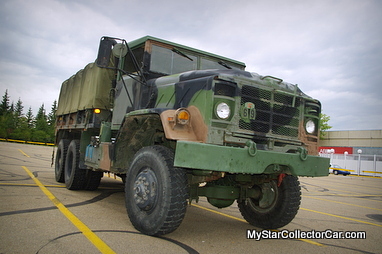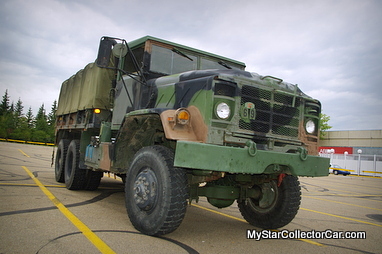 AM General built heavy-duty trucks for decades and many of them ended up with military paint jobs.
They were built to drive through a brick wall and in some cases, they did during the course of a working day under fire in a military zone.
This 1983 AM General five-ton started life as a military monster truck and retired as a mountain bike hauler.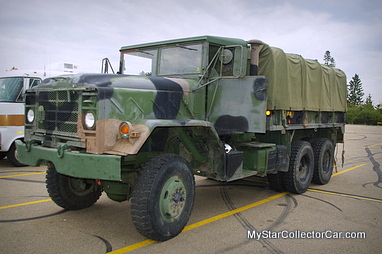 Rod Ceccato is a huge fan of military vehicles and he adheres to a clear "bigger is better" philosophy. A five-ton six-wheel drive carrier fit the bill. He explained,"I'd seen these AMs working on mining site up north so I knew it could take a pounding".
This large 1983 AM General was part of the Idaho National Guard motor pool for years and in 2006 they decided to pump a little money into the old truck. Rod explained, "They brought it in for major retro-fit and ended up spending 75,000 dollars on it".
The rest of the story is not taxpayer friendly, "They put it up for sale right after that and I paid substantially less than that".
Rod explained the background to the tech upgrades, "They put a 250 Cummins in it and an Allison 6-speed automatic to make it more powerful and easier to drive. It's also got ABS and power steering so the upgrades brough it inot the 21st century".
Rod loves the behind-the-scenes stuff in his hobby as he explained, "I work on these all winter. It's what I do during that time".
He is the kind of owner who likes to test the limits of his massive SUV so he's already had an adventure. Rod's stated goal was "to see what it takes to get it stuck" and he accomplished that last winter.
Rod explained, "It was a country road with giant snowdrifts so I kept blasting through them. That didn't seem like enough so I drove it into an 8-foot snowbank in the ditch. That did it".
A truck this big requires more than a standard tow truck to get out of an 8-foot drift. It actually requires at least four tow trucks or more to drag this brute out.
Rod had that covered as he explained, "I got my Cat to get it out. The truck was high-centered so also I needed my track-hoe to dig it out".
Rod has no regrets about his misadventures, "I've done some serious dirt-tracking over the years and I believe you have to go get it stuck. Otherwise, what's the point?'.
He does drive the big AM General under much less threatening conditions and the experence is magic as he recalled, "This is a big truck but it's straight as an arrow down the road. I run it at highway speeds no problem but I don't like to push it past 60 mph".
The truck has been a great example of how far 75,000 dollars will go in a project because Rod has only had a few minor problems with the AM General five-ton, "I spent a day and half on it, just had to fix a little wiring".
His only upgrade is one that's clear to people who live in less friendly climates,"It didn't come with a block heater, I need one of those in the winter".
Rod likes to hop behind the wheel for 60-100 mile runs but his long-term goals with the behemoth are based on the military heritage, "I'd like to go on a nostalgia military convoy in the States at some point and have a little fun there".
The truck is still working because Rod had a "big" payload in the back of the five-ton AM-things like coolers, a few tools and a mountain bike. Clearly, this truck was going to cruise by the weigh scales.
Rod explained he's been advised by this doctor to ride the bike a little more but nobody offered any advice on how to transport it so the truck worked out. The ladder to the extremely high deck is part of the physical therapy.
That's the biggest example of overkill in the history of this truck with the exception of the 75K rebuild but Rod knows that if the big truck breaks down he's getting home.
Jerry Sutherland