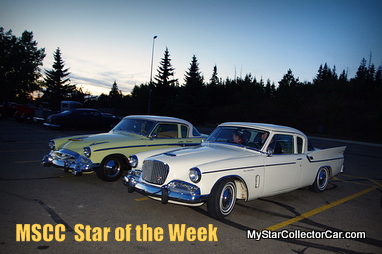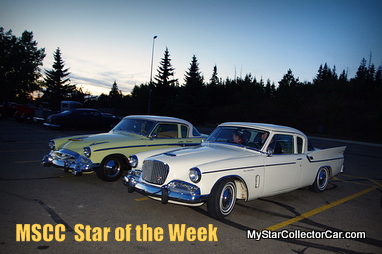 JANUARY 12 MSCC STAR OF THE DAY: GONE BUT NEVER FORGOTTEN AT A LATE SUMMER SHOW
No real car guy will ever dismiss the importance of Studebaker because they were the little guys who produced some extremely interesting cars.
They couldn't keep up with the displacement wars in the fifties so they added a supercharger option, called it the Golden Hawk and thumped the big boys.
They wanted to compete with the Corvette so they built the Avanti and smashed speed records in the 63-4 era.
Every real car guy respects that underdog fighting spirit so that's why these two Studebakers at a late summer show in 2012 were an easy pick for MSCC Star of the Week.
JANUARY 11 MSCC STAR OF THE DAY: '61 PONTIAC LIMOUSINE-THE END OF THE ROAD FOR A GLAMOROUS RIDE
Limos were typically reserved for VIPs or grieving relatives back in the 1960s.
Today they're more likely to haul around drunks on an uptown pub crawl or ferry kids to a senior prom.
In 1961, this Pontiac limousine was reserved for the rich and famous or the next of kin so it's a look back to an era when the rules were different.
This car may have hauled Marilyn Monroe or Frank Sinatra to a Hollywood premiere or Uncle Zeke's grieving family to a funeral.
In both cases the big Poncho MSCC Star of the Day was reserved for class and style, not drunk coeds on a "girl's night out".
Those were the days.
JANUARY 10 MSCC STAR OF THE DAY: A BUMPER CAR FORD DUKES IT OUT WITH OLD MAN WINTER
Bumper cars are the less than flattering nickname for mid-70s Detroit iron.People didn't warm up to the government-mandated impact resistant bumpers and they took it out on the cars.
The TV show, 'The Rockford Files' often featured these big 70s rides in high speed chases with Jim Rockford as the prey.
Despite their less than flattering nickname, bumper cars are starting to develop some serious street presence because they're disappearing faster than faith in government planning.
This MSCC Star of the Day was on the street in winter traffic yesterday and there was little doubt which car was the coolest ride on the road.
MSCC JANUARY 9 STAR OF THE DAY: A COUPLE OF THE TOUGHEST TWO-DOOR POSTS ON THE PLANET
Old cars definitely have personalities. They can range from the syrupy cute (Metropolitans) to stately (Lincolns) to functional (Studebakers).
Then there are the tough guys.
'55 Chevy two-door posts are definitely members of the leather-jacketed automotive fraternity.
This MSCC Star of the Day pair of bare-knuckled brawlers were at a show back in 2011 and they were indeed, as tough as they looked.
JANUARY 8 MSCC STAR OF THE DAY: CHRYSLER FIFTH AVE-THEY CAN'T ALL BE HEMI CHALLENGERS
Hardcore Mopar guys aren't fond of the Chrysler Fifth Avenue.
Mopar muscle fans didn't like the boxy sedans because they believed Fifth Avenues were evil incarnate with four doors and a tepid 318 under the hood.
The glory days of hemi Challengers were over (for a few years) and Mopar guys hung a lot of blame on the Fifth Avenues because they were an easy target.
That's pretty short-sighted because the full-sized M-bodies helped Chrysler cling to older buyers who liked comfortable, rear-wheel drive V-8 sedans.
Every bit of cash flow mattered in the 80s.
This MSCC Star of the Day Fifth Avenue was still out there on a brutal winter day a few days ago because you can't kill an M-body.
MSCC JANUARY 7 STAR OF THE DAY: '58 PONTIAC-THIS IS WHEN CHROME PEAKED IN DETROIT
The mid to late 1950s were justifiably known as the chrome era and most well-informed car historians agree this era peaked in 1958.
Cars were heavily splashed in chrome and General Motors really led the charge with the massive amounts of bright work on their Oldsmobiles, Buicks and Pontiacs.
This Star of the Day '58 Poncho was at a 2009 show where a sunny day made the chrome and stainless steel reflect the light so intensely it looked like a spotlight.
JANUARY 6 MSCC STAR OF THE DAY: MOPAR MONDAY '67 CHRYSLER CONVERTIBLE
The focus on mid to late 60s Mopars is always on the big block Road Runners, Chargers and Super Bees.
Very few people focus on '67 Chrysler convertibles.
That's a mistake because these large C-Bodies were very desirable cars in what is admittedly a niche market.
This MSCC Star of the Day was spotted at a show on an incredibly nice Sunday in mid-autumn.
You'd get there faster in a Hemi GTX but on a beautiful fall afternoon this big Chrysler convertible made a lot more sense.
For past MSCC Stars of the Day please click here.
Star of the Day page sponsored by Southside Dodge.