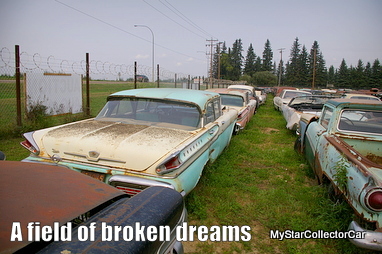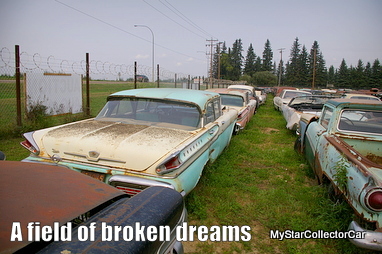 One of the biggest stories of the summer was a mid-August auction of 600 vehicles ranging in age from the 1920s to the 70s, with a large segment of cars from the 1950s and 60s in the mix.
Car guys from all over North America were aware of the Spruce Grove, Alberta, Canada auction because these events are not common in the 21st century.
The cars were stored on a few acres of land and were a sentimental reminder of a bygone era when yards like this one were fairly common.
The rules were a little more relaxed in the past, so a car guy could store plenty of old cars on his property without fear of a visit from a branch of local government that handled and enforced tree-hugger issues.
Most of us visited these yards and we built our car dreams from somebody else's crushed dreams. The cars and trucks lined up row upon row and we knew one of them probably had that missing trim piece or a working alternator.
We looked at the vehicles and wished we owned them before they were annihilated by a head on collision and reduced to a scene of complete automotive carnage with an inexplicably salvageable horn ring and instrument cluster.
We were human vultures who took what we could from the four-wheeled carcasses and knew we had won a lottery when the pieces we grabbed fit like a glove in our cars, including donor glove boxes with working latches in some cases.
We treated these places with reverence because they held the key to our automotive futures when we were kids: reasonably priced parts for our modestly priced cars.
A walk among the cars and trucks at the Spruce Grove auction this summer was a brief step back in time for us. There were rows and rows of classics from the past. The owner had an eye for convertibles and we saw many drop top models from cars we never see at shows.
For example, how often do you see a 1959 Olds 'vert at shows- let alone three of them? This yard had a trio of '59 Olds convertibles on the block.
There was a Ford Zephyr convertible and a badly-broken Ford Falcon convertible in the yard. There were Lincolns from three different decades within a few feet of each other in the yard.
There were late 40s and early 50s convertibles from Pontiac and Buick in the yard, along with a shoebox Ford Woody wagon with no wood left on the side panels. The yard was unique because it contained so many unusual vehicles in the mix.
A few of the vehicles were running and some were in reasonable shape, but make no mistake about it: these were big project vehicles for the buyers and some of them will feel the wrath of the crusher in their very near future because they are too far gone and scrap prices are high right now.
However, many of them deserved to be saved because the vehicles are rare enough to invest money in their salvation, maybe as a resto-mod or custom in some cases. We were a little disappointed with the reaction of some of the tire-kickers in the yard because they were clearly not serious buyers or car guys.
Instead they chose to criticize the vehicles and seemed disappointed in the condition of the cars. These clowns had no car guy vision or soul and are better served by new vehicles where they will not have to dig down within themselves to find the missing character necessary to tackle old car projects.
They did not spoil our day because, for one afternoon, we were given the keys to our car guy pasts in the rows and rows of old rides found in that yard.
We got to visit a place filled with wounded old cars and new dreams about how to mend them.
It was tough to leave that place.
Jim Sutherland
CLICK HERE to Like us on Facebook
CLICK HERE to Follow us on Twitter
CLICK HERE to Follow us on Pinterest