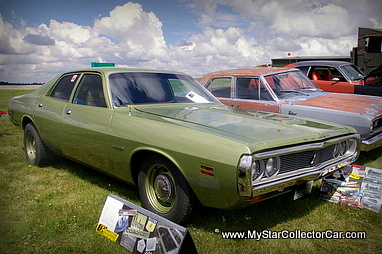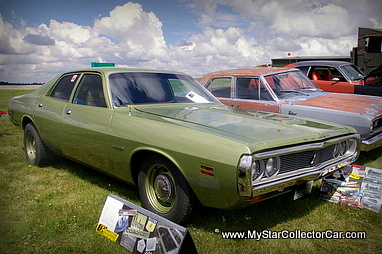 Two thoughts cross your mind when you see a 1971 Dodge Coronet 4-door sedan at a car show.
This car has either (a) a family heritage or (b) a police car connection.
Either answer guarantees a great story behind the car and regular MSCC readers know that "story behind the car" is the most important part of the car and owner equation.
This '71 Dodge was Bob Leier's grandfather's car so the family link was strong. Bob added, "He was a practical guy so this was a plain Jane car, the only option was an AM radio".
Bob Leier bought this car from his grandfather in 1975 for 2200 dollars because it was well maintained and had fairly low mileage but he never envisioned that he'd own the car several decades later.
The car became even more important to the family legacy when tragedy struck, as Bob explained, "It was basically his last car because he died in a crash in the next car, a new '76 Dodge so this is the last car of his that's still around after all these years". That's a powerful personal link to a car.
This reliable old workhorse Dodge was a daily driver until 1990 when it was parked for ten years. Bob came down to the fateful day as he explained it, "I had to choose between crushing it or fixing it and since this was his last car that was an easy decision".
The car was a significant project as Bob recalled, "It took awhile to restore it because I told the guy who did the body that I didn't want it to rust anymore. He spent 18 months on the body because it needed a fair amount of work, "I spent some time on it, it took three years to put it back together".
Bob focused on the interior in a big way, "The door panels were in good shape but the tops went black so I misted them and the console too. The console is out of a B-body and the captain seats are out of a van, they were matched to the back seats".
Bob wanted to go in a slightly different direction with the old Dodge and the factory 318 was the first casualty, " I wanted something a little different but I also wanted to keep the car like he had it-at least on the outside. I even kept the old Banff National Park sticker. I might have gone a little overboard with it but I had the time".
That's where the superficialities end. Bob replaced the trusty old 318 with a big block 440 and added a big block drive line to handle the extra torque.
His grandfather only ordered a basic radio, basic V-8 and popped for an automatic but Bob added a number of options to the old Dodge. This '71 Dodge has a blind spot camera, CD, AM FM, IPod, USB port, driving lights, LED instruments, 15-inch police wheels with SS hubcaps.
The stance on the old Dodge suggests heavy duty use so the cop wheels fit the image because you can easily imagine Dirty Harry behind the wheel of this old Mopar.
The upgrades didn't end there, "It's got a line-lok launch control on the column shifter and the ignition was upgraded to electronic. It's got highway gears too. The first time I took it out I lost a chunk of paint after I went flying down the road in it".
The performance stance is no accident because Bob had a different vision for Grandpa's old Dodge Coronet, " I competed in the Silver State Classic Challenge back in September 2011 and averaged 94 miles per hour in my category with a top trap of 109.9″.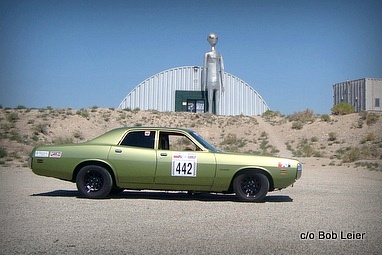 The racing career didn't end there as Bob explained, " I do have an update on the fun factor – we returned to the Silver State Classic Challenge in Sept. 2012 and entered the same class. The 95 MPH class and unfortunately for the other guys we took FIRST PLACE!! Grandpa would be even prouder than last year".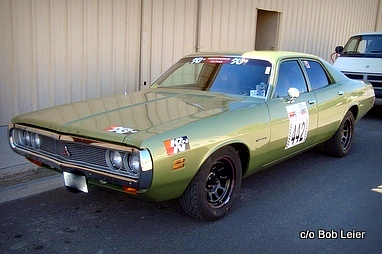 "Feel free to use the pics that are attached if you wish, they are mostly from the event, there is one of my brother (navigator) and myself in my driveway with our trophies".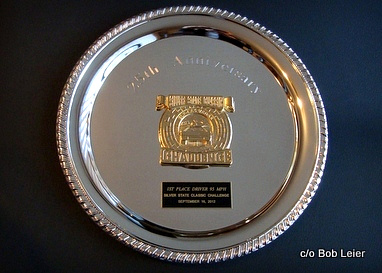 Bob has clearly migrated from daily driver to fun status in this classic old Dodge and on the way he's accomplished an amazing feat.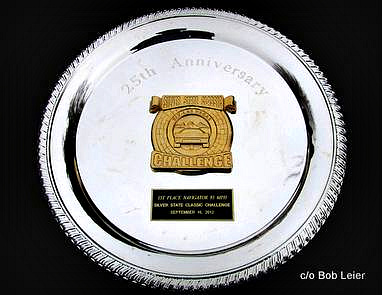 He's owned a very reliable car, saved a 4-door sedan, preserved a family legacy and built a great sleeper street machine for an off the chart fun factor. That's quite a legacy for any car.
Bob explained how the family legacy will continue, "My nephew wants it and if he doesn't pass my muster, it's going to the other nephew".
The biggest legacy with this '71 Dodge has no price. Bob explained, "I lost my Dad awhile ago but I did get a chance to take him for a ride in it and he loved it".
He said, "I wish my Dad could see this".
There's another post script to this family story,
"We lost my older brother (Rick) to cancer on Feb 17 this year, but he got to ride in the car as well, we took it out on the highway and did some "time trial acceleration tests" with it. His comment was 'you're getting my Mopar juices flowing again'. He loved it and I was more than happy to do it for him".
Jerry Sutherland