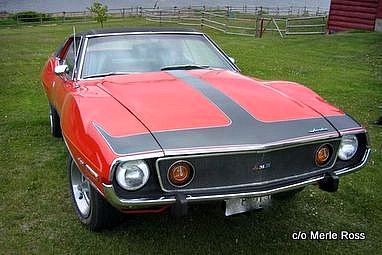 Every real car guy has a story about the "one that got away".
Some call it a rite of passage because they believe that you have to suffer the pain of losing a beloved ride from your past.
It's been said before, you never really get over the pain that comes from losing a good dog or a great old car.
This '73 AMC Javelin AMX is a great example of what happens when the story has the non-country song "happily ever after" ending.
Merle Ross met the first love of his life back in '73 as he explained, "I can get carried away talking about my baby(wife says I'll probably be buried in it). I bought it at MacLellan and Gatzky Motors the AMC dealer in Prince George, BC in the spring of 1973".
This was a highly optioned car has he recalled, "it had a 401 go-pack, 4 spd Hurst,Pierre Cardin interior, Trans Am red with a black vinyl roof".
One man's misfortune is another man's gain and this Javelin proved that back in '73, " Apparently a logger had ordered it in but went broke and couldn't pick it up and as soon as I saw it I had to have it.
This was the first hurdle but Merle had one more financial barrier to clear, "I phoned my banker and promised to get a job,got the car and went up to MacKenzie in my new AMX Javelin".
Youth and powerful cars are a complicated mix and Merle was no exception, "It drove like a dream and had lots of power which being young and stupid I had to prove quite often".
He was smart enough to confine this need for speed to the track, "So in the Summer of '75 I decided to go drag racing.In those days they had a strip up in Dawson Creek and one down in Quesnel.I put on a high rise with a big carb,headers,air shocks and a good set of slicks and went racing. Had a great time and met a lot of great people.Got my times in the 12s and won a few heats".
Love can take a fickle turn in any relationship as Merle remembered, "In the Summer of '77 Smokey and the Bandit came out and I just had to have one of those Trans-Ams. Now what to do with the Javelin? I had a guy interested in it , had the transfer papers, had his cheque in my hands".
Fortunately love often triumphs over fleeting romances, "Couldn't pull the trigger,gave him back his cheque, tore up the papers and then I had two cars".
Not many guys can juggle two relationships but Merle pulled it off, "I would take it out for a spin once or twice a year till about 1980 when I needed more room in my garage,I took it out to my sister's place and put it into storage".
The dynamics of any relationship are in constant flux and this was no exception, "Then in 1994 we were moving to 100 Mile House so I had to make a decision about the car. A friend of mine that I played hockey with had just opened up a garage and had a spare bay,he suggested that we go over the whole car and he wisely convinced me to put it back to original".
That was a decision that Merle never regretted, "Spent a year on it and got it back to the way it was brand new.Took it down to 100 Mile in 1995 and in 1998 I got a friend of mine who is a fantastic body man to take a few dings out and give it a new paint job and decals.Took him a year and he did a super job.
Here's the "happily ever part" in this 40 year relationship, "Still a dream to drive after all these years,it only has 42000 miles on it and we're having a lot of fun hitting a few car shows every summer".
Country songs are wrong…this is how it's supposed to be after 40 years of romance.
Jerry Sutherland
For a look back at another MSCC story about a 73 Javelin please follow this link.