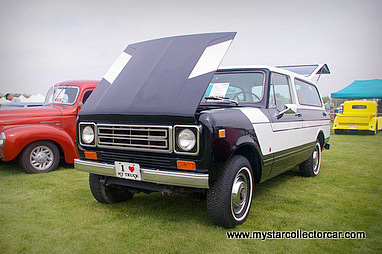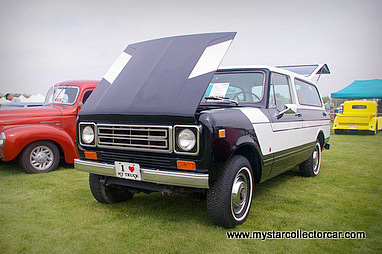 Helen Mclean's 1977 International Scout Traveler is an unusual guest at any show and shine.
There are not many of these unique vehicles left on the road. Helen qualifies her ownership by stating that it was a demo model bought off the lot.
We'll just call her the first and only owner of this show-stealer.
Helen still loves her Scout, and it appears that her affection has gone multi-generational, because her grandson was with her at the show. Helen called her vehicle a long body transitional vehicle because of its size.
She also calls it her truck and that is one of the main reasons she bought it.
The IHC Traveller's years of loyal service to Helen have not gone unappreciated. She is a very practical woman, so she fits the IHC's restoration around a budget. The restoration began in earnest in 1998, and the process is not quite at the finish line.
Helen admitted a new roof on her house will take precedence first, but the Corn-binder looks pretty good right now to us. Weather-stripping and wind-lace are on her to-do list in the future. The beauty of her unusual vehicle is that she can drive it to any show and become one of a kind.
Plus it is big enough to bring along a lot of grand-kids if she wants to travel with a crowd.
Jim Sutherland
CLICK HERE to Like us on Facebook
CLICK HERE to Follow us on Twitter
CLICK HERE to Follow us on Pinterest
*Re-post if you like this MSCC article…thanks.