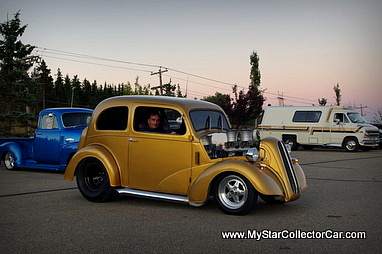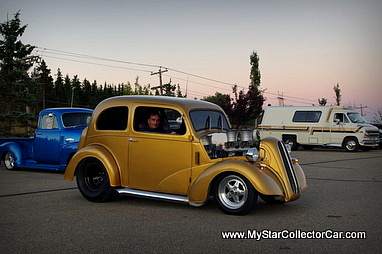 The humble Anglia became one of the most sought after cars at drag strips across North America because it was light and had the perfect wheelbase for the track.
Drag strip guys found that these Anglias were natural born Gassers so they went from very disposable to highly sought after in a few years.
Scott Riley has been running track cars for years so he was well aware of the legendary status behind these little British cars. He jumped at the chance to buy this 1950 Anglia, "I got it for 3500 dollars. The guy had been running it on the street and I just bought the shell".
Scott is the definition of a "hands-on" car guy so his fingerprints are all over this little British Ford. In his opinion, "if you're going fabricate then fabricate". He wanted the right hand drive steering to be quick and responsive so he went to an unusual parts source as he explained, "It's a super narrow car so I went to a steering rack and front end from a Polaris Razor ATV and it's got Chevette upper and lowers. It's an independent front suspension and it works great plus it's only 3 and a half turns lock to lock".
He got the car done in the fall of 2011 and it made an impressive debut, "I got it finished when I was back in the East and on the 1st trip it did a 10.8 on 7 cylinders because it had a burnt piston but that's still pretty good".
The Anglia wasn't loaded up in a trailer, "I drove it home. You have to drive them home".
Scott moved and the Anglia made the trek with him so the first order of business was a new engine, "It's a 355 Chevy. A guy had a block for sale for 100 bucks and I got the heads for 100 bucks. There's 250 bucks total in the engine".
The heart transplant didn't take long, "It was on the engine stand on Friday night and in the car by Saturday".
Scott is the kind of guy who takes on all the major and minor details, "I built the tubular frame and it's square, not round. Round is for serious racing and I'd still be working on it if it was round tubing".
The gas tank and radiator are more Scott original designs, "I fabbed up the gas tank and built the radiator myself because I couldn't find anything that would work better than a custom design".
This Anglia is built in true street rod tradition with a mix of parts that somehow work together, "It's got a Turbo 350 and a Ford 9″ rear end. The 30″ seats are out of a '95 Thunderbird and the steering wheel is out of some kind of little import".
The car is in its developmental stages so there are still some bugs to iron out, "I need a wiper switch and a few other things. I want to put in power windows and I'm thinking about an air system. I want to work on the back seat for my daughters too".
That is a key statement because Scott has a very simple philosophy, "I'm really excited to have it back on the street because everything I build, I build for the street. The vent window works great at 75 miles per hour.That's why it has bug splats on it. I need the back seat because this is something I want to do with my family".
In the end, Scott summed up his Anglia with one sentence.
"Let's not talk about it, lets get it done."
Jerry Sutherland
For an MSCC story about a stock Anglia please follow this link.