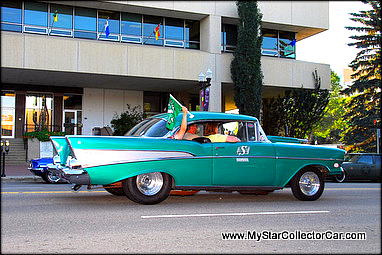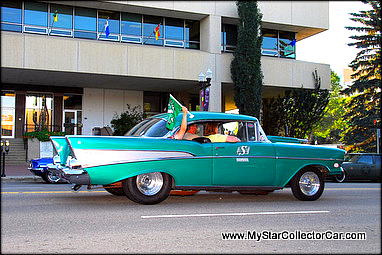 Rick Nelson has two passions in life-this '57 Chevy is one of them.
The other passion is clear-he's a lifelong Saskatchewan Roughrider fan and he combined the two loves many years ago when he bought the Bel Air in high school.
The Chevy is 55 years old and the Roughriders are 112 years old so Rick has really embraced the heritage behind these major influences in his life.
Rick is a detail guy so he knows the history of this classic '57 bowtie; " it had been a gasser in the 60s so it had a racing history". This was his legendary high school car and it started on a less than glamorous note as Rick recalled, " I towed it home on a rope, no drive train and my parents were just shaking their heads".
He was a self-described "closet car guy" who hung around with non-car guys back in high school. He followed an academic path that leaned more into a career as a professional engineer than a car builder. Rick explained how the two merged, "cars are fairly easy if you know that it's straight science behind them".
That's why he continued racing this former track star, "I kept it doing double duty on the street and strip then I caught the fever and kept on building but I also drove it on the street".
Rick listed off the original power train details with scientific precision, "I ran 6:17 gears with a small block so it pulled pretty well for the strip but the street manners were a little suspect. Mixing fuel became a problem because I needed the right blend just to cruise in it. Those are things that made it expensive to run".
Eventually Rick turned the car into less of a driver and more of a full time track machine because he was hooked on the racing experience, " There's a constant learning curve with racing and I can't wait for the green light".
The track was the stage for the '57 Chevy over many years and it won many battles during that period—and Rick's learning curve never ebbed.
But he wanted to reacquaint his family with the street side of his long term automotive buddy so he mellowed the '57 Chevy…slightly, "It's running a 331 now, 327 bored out a bit.. It's first one I ever built detuned a bit. Still has the 4 speed Borg-Warner and now the gears are 5:38 so it's a bit more civilized. It's got tubular A arms now but it still has the gasser look. I still trailer it though because 5:38 gears are still not good highway gears so it's wound up pretty good on the highway plus there's the hail factor in the summer and we came through a tornado warning to get to this show".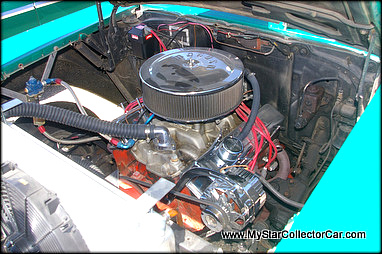 The rumble of the '57 Chevy has changed a bit too, "It's got a lot of muffler now so it tones down the sound pretty good".
The Canadian Football League Saskatchewan Roughriders are the second part of the equation in the car, "It's always been green since I owned it, and I treated it like the Ridermobile". That's important in Saskatchewan—the only region of Canada where football reigns over hockey as the number one sport in the province for fans.
Rick's wife finally put the icing on the cake; "she got me Rider decals for it at Christmas". That was enough to turn this Chevy track star into a Roughrider rock star as Rick explained, " People love it when I come to Rider games in it. They give me big thumbs up and my son insists that we do a lap around the stadium before the game. People go crazy when you do that too".
Roughrider players are well aware of the car; "I've had quite a few sit in the car for good luck". The Rider mascot (Gainer the Gopher) even tried to fit in the car but Rick explained, "His head was too big".
Rick has achieved the impossible with his 1957 Chevy. He's kept his high school car, his race car and his Roughrider car plus he has total buy-in from his family.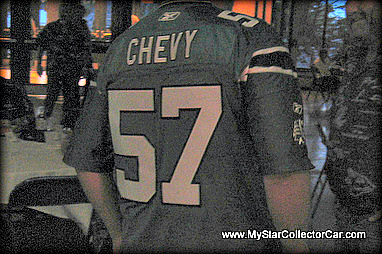 There's so much buy-in that they all wear the same Roughrider jerseys with the same number (57) and the same name on the back (Chevy).
They call it Rider Pride in Saskatchewan.
Jerry Sutherland
Follow us on Facebook at-http://www.facebook.com/MyStarCollectorCar
Follow us on Twitter at- https://twitter.com/#!/MyStarCollecto1 
Follow us on Pinterest at- http://pinterest.com/jerrysutherland/classic-iron/