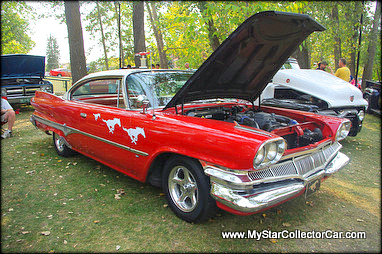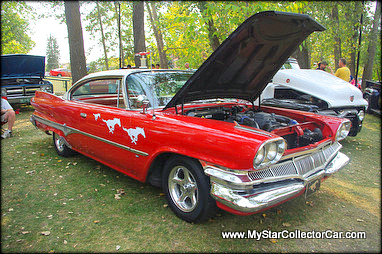 There are few people who would take a 1960 Dodge Dart Phoenix and paint it the color of their favorite football team.
There are even fewer who would have talent and inclination to resto-mod this car with 1970s technology.
Al Toews is one of those guys.
This is a supercharged, programmable EFI and ignition slant 6 Dodge because Al thought that it might be an interesting mental exercise to build a hi-tech car with 1970s level technology.
Al is a real-life Gilligan's Island Professor because this car actually works exactly the way he drew it out—this is a test tube on wheels.
Al's a Mechanical Engineer so the concept was relatively easy to draft but unlike most engineers he wanted to get his hands dirty on the project. Clearly Al's inner car guy is a big force in his life.
Essentially this is the real-life culmination of a "what if?" experiment where 21st Century technological results are achieved with '70s electronics. In a way, it's like making an mp3 player out of an 8-track player.
This wasn't Al's first 1960 Dodge. His first one was a family car that had hit retirement 4 years earlier. The car was pretty rough but Al accepted the challenge and made it roadworthy with a few custom options like an 8-track and mood lighting.
The car survived his high school years but it didn't survive the amateur bodywork so eventually it was retired on a permanent basis. That's when Al found this 2-door Phoenix hardtop.
This car wasn't pristine either but Al liked the 2 less doors and the sportier look so he rescued it from a swampy area. Experienced car guys know what water does to metal and this Dodge was no exception but extensive metal replacement saved this old Dodge. Al outlined the program, "It needed new quarters, floors and fenders. I gave it to him in 93 and got it back 3 years later".
Al wanted to keep the slant six but like most car guys he went the junkyard route for modifications so the car has 1979 Diplomat spindles and brakes, '69 Polara front stabilizer, '76 Dart master cylinder and booster, '69 Dodge 2:92 8 ¾ rear end a modified '67 Dart drive shaft and early 70s Mopar electronic ignition.
Al's goal from Day 1 was maximum efficiency from the slant 6 so fuel injection was mandatory. His engineering side told him that maximum efficiency with fuel delivery and mixture are the keys to better performance.
This car has a programmable fuel and timing that can handle changing conditions via a simple hand programmer. That sounds simple but clearly experience is the best teacher so Al has this system down to an art form but the human factor is still part of the equation.
A supercharger was the other add-on for the slant six so Al hit the salvage yard again for an Eaton M90 '89 Cougar unit. The key to success is making things fit-hot rodders have known this for decades. Al's training and instincts make him a hot-rodder regardless of his background. The results were spectacular because this 1960 slant 6 Dodge now has over 200 horsepower at the rear wheels.
Al took it to another level when he worked on the heat issues under the hood that wreaked havoc with the intake manifold. He explained, "I had to do a lot of things to manage heat and one of the things were the heat louvers on the hood". Technically speaking, there were many little engineering tweaks like a 4 core radiator that still looks stock but basically Al mapped out the problem and came up with solutions like he was back in university and the Dodge was a term paper.
The real goal of this Dodge was simply to make it a very reliable and efficient driver but Al did add some non-engineering touches like a red, white and black theme for the car. The colors are the trademark of the Calgary Stampeders of the Canadian Football League. The Stamps are the team Al adopted when he moved to Calgary and he believed that this classic old red and white Dodge would be a good car to take to Stamps home games.
The car was made famous on a CFL broadcast, "TSN (The Sports Network) followed us up to a game and used it in their Labor Day Battle of Alberta game day promo". The Calgary-Edmonton Labor Day Classic is one of the CFL's biggest traditions so Al was happy that the Dodge became part of the history.
Al has magnetic Calgary Stampeder horse signs for the car but he has to do inventory every time he goes to a game. He admitted, "They tend to disappear during a game".
This is a great example of how much an owner can become personally invested in his old ride—Al simply took it up a notch by blending nostalgia and sound engineering principles.
Al summed it up best," This is visceral , real, not refined power that's been upgraded to 70s technology".
Jerry Sutherland
Follow us on Facebook at-http://www.facebook.com/MyStarCollectorCar
Follow us on Twitter at- https://twitter.com/#!/MyStarCollecto1 
Follow us on Pinterest at- http://pinterest.com/jerrysutherland/classic-iron/