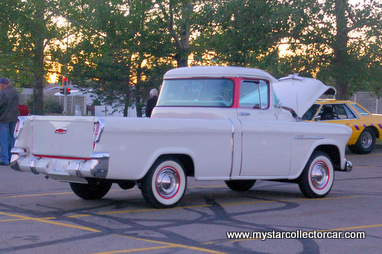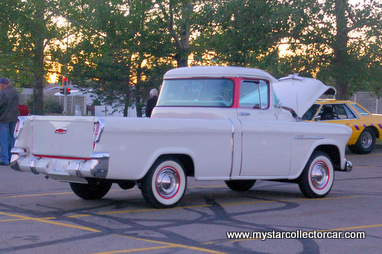 Scott Carson is an authority on vintage Chevy and GMC trucks so there's no real surprise that he knew what he was getting with this 1955 Cameo.
'There was no gamble on his part to buy this classic Chevy truck because he is an expert in the field.The gambling part came earlier in the truck's history….'
It was won in a poker game.
This truck was purchased out of Spokane in 1980 for the huge sum of 500 dollars-obviously an era where old car fairy tales came true. Scott had owned a '56 Cameo in the past and it was clearly one that as Scott relates, he "should have never sold, gave it away compared to what they want now".
The guy who paid 500 bucks for the truck drove it for a year then he lapsed into that fatal disease known as "tear an old ride apart with no game plan" syndrome. That brought it to the next owner-the lucky poker player. He then used up his luck and a ton of money putting the pieces back together from the previous disaster.
Then he sold the truck to Scott and the deal included surplus stuff-as he explained, " There was a pile of parts ripped apart and left in baskets and stuff. Stuff that's getting really hard to find now".
Scott was the right guy to own it and the process was done properly-as Scott explains he " wanted to be over extreme to make it original". The translation of that is that the truck kept its thrifty 6-cylinder and very basic options even though a retrofit suspension and crate 350 V-8 would have made the Cameo a lot more civilized in today's traffic.
But something would have clearly been lost had Scott chosen that route-the history of an era when a guy ordered a fancy looking truck then optioned it like a working farm truck.
Scott knows that the real value of this truck is found in the odd history. So even though as Scott reports,"it wasn't designed as a driver with its skinny bias ply tires" it's going to remain factory stock under Scott's careful watch. Scott admits that "he doesn't get it out enough" but as a Chevy truck expert, he always has a fall-back position.
He's preserving automotive history.
Jerry Sutherland @mystarcollectorcar.com