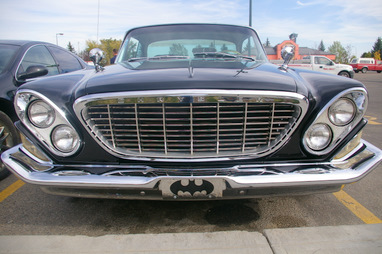 We saw this 1961 Chrysler Windsor in regular traffic and decided to track the driver down for our scary rides issue.
This guy was like the phantom because a minute later we found the car in a parking lot but no driver…
He had made a "Batman-like" exit but at least the car was still there-it was hard to miss.
Giant fins and menacing black paint are not routine things you'll see in traffic. The car generated big interest with onlookers and it was clear that the stealthy driver liked the bat theme.He had a bat symbol on the front plate and the rear tag had a bat theme as well.
Mega-sized rear wheels and traction bars told us that this car was a lot more than stock-that was impressive because the old factory 413 big block had enough torque to pull down a redwood so this had to be a monster under the hood.
We hope to interview this mystery "bat-mobile" owner at a later date-it's pretty hard to miss so we know we'll find him but for now the giant fin car qualifies as a scary ride.
Even without the details.