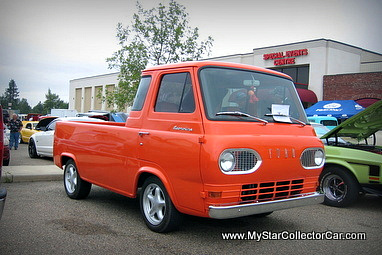 Ralph Croteau is pretty handy with the tools and his skills came into play when he bought his 1965 Ford Econoline pickup truck.
He bought it for 500 bucks after a conversation with his wife when he sold her on his purchase with; "Yeah I think it runs".
It didn't.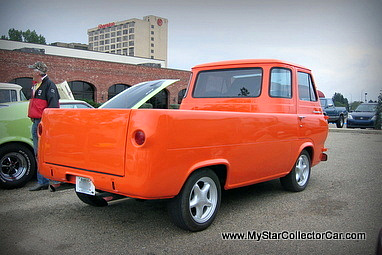 Actually, Ralph had a lot of work on his plate when he dove into the restoration process on his Econoline, but he was the right man for the task. His finished project is an eye-catching orange truck with the stylish look of a van from the Ford family circa 1965.
Detroit has always been highly competitive when it comes to the Big Three, so Chevy and Ford went head-to-head in 1961 with their flat-nosed vans that were a reaction to the Volkswagen vans that had been around for since 1950 as imports in North America.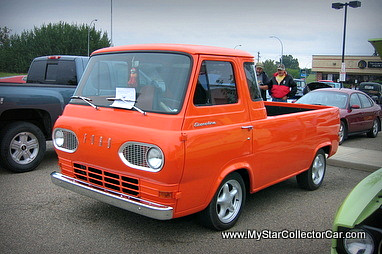 Chrysler joined in the flat-nosed van game three years later in 1964 with their A-100 models and also added a pickup like their Chevy and Ford competitors. These three models were primarily used by tradesmen, whether they came in van or pickup configurations.
They were built for hard work and very few of them survived past retirement, so we are always happy to find one of these iconic workhorses built by any of the Big Three at a show because most of them were worked to death.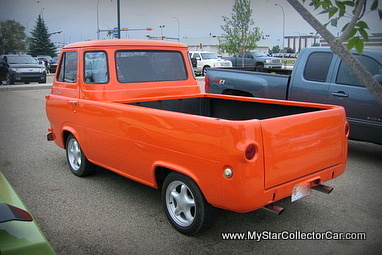 Ralph's truck has a C-4 automatic bolted up to a 1968 Falcon 289 and the two main components of his Econoline's drive-train are a good balance of power and performance for Ralph's needs. He has added headers to his Blue Oval small block to tweak the performance a little more to suit Ralph's tastes.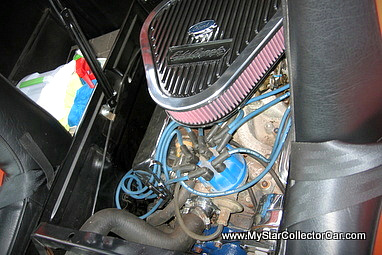 The Econoline required some bodywork to bring it back to its former glory so it has a few patch panels to remove the onset of rust problems in the pickup. Ralph also added some stylish wheels that were donated by a 1995 Ford Mustang and they just barely clear the wells on the Econoline. But they look great and are a nice touch on the truck.
We found this truck at a car show run by our local Ford club that has an unlucky history of bad weather when they host their annual show. In fact they even moved the show from the traditionally wet month of June into the traditionally dryer month of July in our area last summer.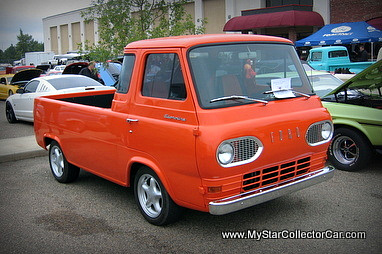 However the angry rain gods followed them into July and they were greeted with yet another torrential downpour for their show. The Ford boys were undeterred by the rain and so were we because this show featured Ralph's stylish 1965 Econoline and that fact brightened up our day.
MSCC can never get enough of these unique trucks from the 1960s that turned heads even when they were brand new because they are just that cool.
We are grateful that car guys like Ralph was willing to tackle his Econoline project and save another one of these rare working trucks from a bygone era.
Jim Sutherland
Have a look back at a March 2010 MSCC story about about another 1965 Ford Econoline pickup.