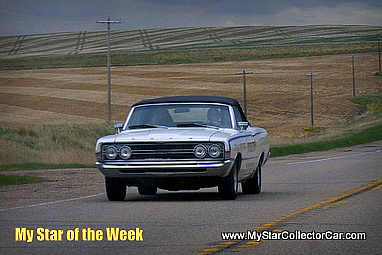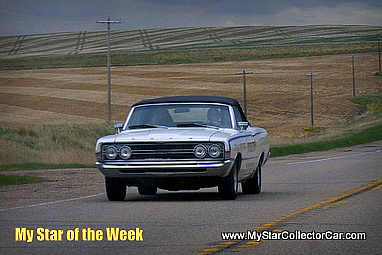 FEBRUARY 17 STAR OF THE WEEK: 1968 TORINO GT CONVERTIBLE INDY PACE CAR, DESERTED BACK ROAD
The 1968 Ford Torino GT was chosen as the official pace car for the Indianapolis 500 that year so it led some high powered cars on the track.
Ford pumped out 3 cars for the actual job at Indy plus they built a few thousand tribute cars to celebrate the coveted pace car honors in 1968.
Add over 40 years to the equation and the odds of seeing a mint 1968 Torino GT Indy 500 pace car convertible on a deserted secondary highway in 2012 were pretty slim.
That's what happened last when this Star of the Week showed up on a highway 50 miles from nowhere on a June afternoon last year.
That's the secret of the car hobby…the unexpected, yet pleasant surprise factor.
Take a look at a November 2010 MSCC story about one of these unique Torinos.

FEBRUARY 16 STAR OF THE DAY: A COUPLE OF BULLET BIRDS- '62 AND A '63 FORD THUNDERBIRD
The Ford Thunderbird started out cool in 1955 and it resurfaced in several equally cool versions over the years.
The Third Generation version of the T-Bird is fondly called the "bullet bird" because it has aerodynamics that could be described as bullet-like.
These cars were ahead of their time in many ways because they combined 50s cool with 60s style at a time when Detroit was redefining the fin era to reflect a new decade.
These two bullet birds were at a late season show last year when only a few cars showed up because the weather didn't cooperate. That made the the appearance of a '62 T-Bird coupe and a '63 convertible even more unique because these cars are relatively rare at big shows.
Star of the Day….these two Bullet Birds.
FEBRUARY 15 STAR OF THE DAY: 1st GEN CHALLENGER ON A WARM SEPTEMBER NIGHT
Car show season isn't officially over in September but it's definitely running on fumes after the Labor Day weekend.
This picture was taken a week after Labor Day and it was one of those perfect early fall nights because the temperature would have been comfortable in July.
The biggest difference is that the sun falls out of the sky a lot earlier in September so car guys clear out like somebody yelled "tornado" long before sunset.
Car guys don't like to expose their old rides to the night so the shows end earlier but there are exceptions like this Dodge Challenger.
This car is a Star of the Day simply because its owner waited until sunset to head home.
FEBRUARY 14 STAR OF THE DAY-THIS BAD BOY ECONOLINE IS WHAT VALENTINE'S DAY IS ALL ABOUT
There are two directions to take on Valentine's Day You can go with the flow and jump into the financial vacuum of romantic add-ons like flowers, spas, dining out and expensive trinkets.
Or you can write it off as a made up event designed to jump start slow post-Christmas retail sales.
Married guys and committed relationship guys are well aware that the cost of doing nothing on Valentine's Day is huge. Women will put that error on your permanent record faster than you can skip down to the flower shop to try and right the wrong.
The Valentine's Star of the Day could have been a cute little car like a Metropolitan convertible for the women but don't they get enough already on February 14th?
This bad boy Ford Econoline with the monster big block is strictly for the dudes today because it's not cute or romantic and it doesn't look good with a pretty ribbon wrapped around it.
FEBRUARY 13 STAR OF THE DAY: 1972 PONTIAC LEMANS AND A JULY EVENING

Sometimes the car hobby extends into other facets of life like a beautiful late July evening in a resort town.
That in itself is one of life's great pleasures so an old ride like this '72 Poncho took a great life experience to another level.
This picture was taken just after a summer rain and just before the sun went down so the combination was car guy Nirvana in the truest sense.
Star of the Day…putting a period on a perfect July night with a vintage Pontiac Le Mans.
FEBRUARY 12 STAR OF THE DAY: 1957 FORD METEOR BRIGHTENS UP A LABOR DAY WEEKEND
Regular MSCC readers are well aware that many of the classic old rides have a Canadian heritage.
This 1957 Meteor is yet another example of the familiar, yet different look that defined these Canuck classics.
They have the same basic lines but the trim is different…kind of like Budweiser and Molson Canadian are both beers but beer gets you blasted faster.
The Star of the Day was at Labor (or "Labour" in Candianese) Day car show last September where it made a good show great.
FEBRUARY 11 STAR OF THE DAY: WHEN IN DOUBT, PICK A '57 CHEVY
There's an old saying in the collector car hobby…"when in doubt, pick a classic". That theme is particularly important when the mission is an MSCC Star of the Day because the idea is to make a star out of an old ride.
The task becomes much easier when you pick a '57 Chevy. These cars are the four-wheeled equivalent of Elvis Presley for 1950s icon status so this choice was easy.
This MSCC Star of the Day was in a parking lot back in September. This classic bowtie was an interesting blend of old school style with new school technology because those wheel and tires clearly weren't something you could check off on a 1957 Bel Air order form.
The picture was another factor because it was one of those lucky shots when the sun, the moon, the stars and about a million other things lined up for a very cool shot of a very cool car.
For a look back at past Stars of the Day please follow this link.