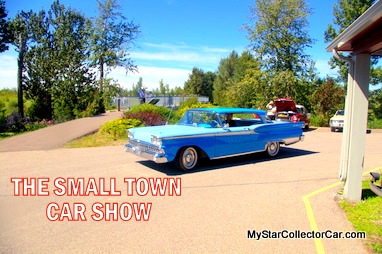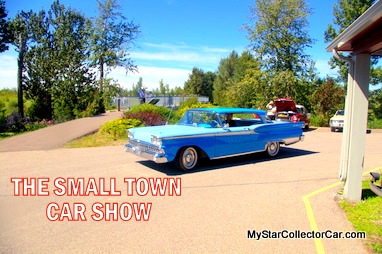 Car shows are like people. They come in all shapes and sizes, ranging from a few cars at a shopping center to well over 5000 entries at a mega-show.
They all have one thing in common- they're friendly, positive, family oriented, happy events. It's almost like Walt Disney patterned Disneyland after a car show vibe.
I was at one of the smaller events I've been to in 2011 where they packaged everything a car show could offer and held it in a real-life version of Mayberry.
They took the family friendly ambience of a car show and put it on steroids. The only thing missing was Don Knotts and Andy Griffith driving through in a 1962 black and white Ford Galaxie.
Markerville is a picturesque hamlet located in the central part of the province of Alberta. It looks like a Norman Rockwell painting in real life plus they are extremely proud of their Icelandic heritage. Markerville's biggest claim to fame is Icelandic poet Stephan J. Stephansonn. He is to Icelanders what James Joyce and Van Morrison are to the Irish and when you get there, you can understand what he saw in the Markerville area.
The other less known attraction in Markerville is their annual car show. They hold it in the area around the Creamery Museum and, outside of Pebble Beach in California at sunset; you probably won't find a better location for a car show.
Unlike Pebble Beach, the Markerville show embodies the real essence of the car hobby. They don't believe in pretension or prizes. In fact, the nominal entry fee includes a piece of homemade pie topped with their biggest export-ice cream.
This is the most casual show on the planet-owners often leave their cars for hours just to a stroll around the park-like setting. Nobody moves too fast even if they have a car that can crack ten seconds on the track.
Somehow it just wouldn't be right to get on Barney Fife's radar. In fact, when some of the entrants left in their heavily-modified iron, you didn't see that grimace that most guys with loopy race-cammed cars get when they have to idle out of a show with a car that was born to run. They're okay with 500 rpm in Markerville.
There's plenty of shade at this show so people tend to stay a lot longer and the whole town gets behind the show in a way that big-city people only know as a concept. They willingly volunteer.
Every car show has its own identity but if the Markerville show fit into a category it would have to be described as a visit to your favorite small town cousin's hometown.
Jerry Sutherland
For more car shows please follow this link-https://www.mystarcollectorcar.com/3-the-stars/stars-of-the-show.html