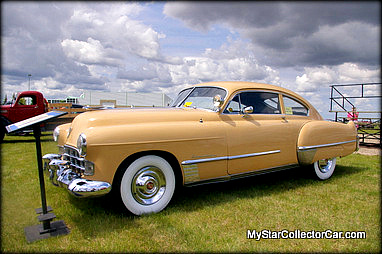 John Eggertson is on a journey back in time with his beautiful 1948 Cadillac Sedanette Model 62 series.
It has been retrofitted with a 350/350 Chevy power-train combination and John wants to re-equip it with a period-correct Caddy flathead V8 and Hydramatic transmission.
John respects the heritage of the car enough to invest in his back-to-the-future swap that will ensure that his 1948 Caddy will once again be powered down the road by a 1948 Caddy motor and tranny.
John's game plan is a little out of the ordinary in 2012 because many car guys can't seem to yank out the original heart fast enough from old iron. They either seek a Tim-the-Toolman more power goal, or the performance and reliability of new engines and transmissions in old cars.
The resto-mod guy wants to be able to walk into any auto parts store and order off the rack when he needs a new filter or water pump. A 1948 Cadillac flathead is simply an invitation to trouble for the resto-mod guy, but John is respectful of the time when this Caddy was the ultimate luxury car, shortly after a long and terrible war.
Cars like this Caddy helped people look ahead to a prosperous new post-war era when anything was once again possible and this car meant that you had made it as a success in North America. John respects that philosophy and wants his Caddy to be true to its roots.
Therefore a 350 Chevy engine is just a placeholder until the flathead is rebuilt for a return to its rightful home under the hood of John's Cadillac.
John was quick to point out that his car is one of the few left in existence that still has its original interior, a feature that made the car even more attractive to him.
John also said that only 4764 of these cars were built, with 2563 of them sent to Europe, so his desire to retro-fit his rare Caddy also makes good sense from an investment point of view here in North America and 65 years after it was built.
The car is a stunning example of a bygone era and we salute John and his Caddy's journey back to originality for this beautiful car.
Jim Sutherland
Follow us on Facebook-http://www.facebook.com/MyStarCollectorCar
Follow us on Twitter at- https://twitter.com/#!/MyStarCollecto1