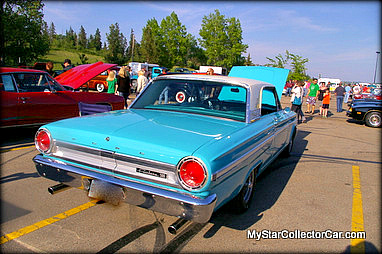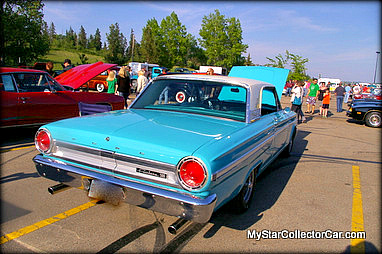 Keith Prior is a hardcore Ford guy.
He's owned them forever, he's sold them for a Ford dealership, he drives them daily and Ford is his choice for collector cars.
Last year he acquired this particular example – a 1964 Ford Fairlane.
So far it's been a very successful partnership.
This stock-looking '64 Fairlane is far from factory stock because under the hood beats a balanced and blueprinted 302 Cobra Jet. The 351 heads are tweaked-up and the car pulls an honest 360 horsepower because a guy with NASCAR roots built the engine.
Keith admits, "I had to change the rear end to 3.00 gears because the 3.96 was lifting the front end". He wanted a more civilized driving experience so the overdrive automatic enhances the highway manners of this tough little Ford.
Despite its school teacher owner look this car still attracts the attention of traffic police as Keith explained, "I try to sneak by police because they're usually gawking at it but a few of them give me a thumbs up". It's got a serious rumble but Keith is an older and wiser Ford guy, so he literally skates under the radar when he can with the blue Fairlane.
Keith is a car show junkie and he has deep roots within his local automotive community so he took the Ford to many shows in his first summer with the rugged little Ford. That paid off because he took several 'Best of Show' trophies in the summer of 2011. People were drawn to the Fairlane because it looked factory then they bought into the subtle, but classy upgrades…instant People's Choice award.
He has the right attitude about the '64 Ford Fairlane because he simply wanted a "nice, good-looking driver but when I take it to shows, she'll go". Keith's experience in automotive retail kicked in when he picked this car because it is the ultimate example of a guy who found the perfect car.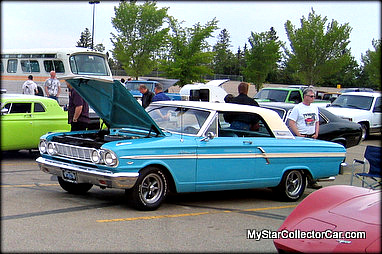 The goal of every car guy is the "fun factor". This Ford clearly hit the mark because it combines enough of its 1964 roots with a 21st Century drivability but it did come with one drawback that Keith didn't anticipate.
The trunk isn't big enough for the trophies.
Jerry Sutherland
Follow us on Facebook at-http://www.facebook.com/MyStarCollectorCar
Follow us on Twitter at- https://twitter.com/#!/MyStarCollecto1