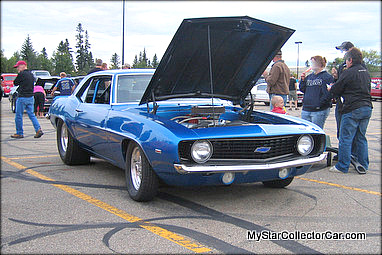 Doug Hougestal is only the second owner of his first car.
His older brother purchased this 1969 Camaro brand new out of the box 43 years ago before he sold it to Doug in 1973.
The brother to brother transaction cost Doug 2500 bucks at the time for the Camaro.
It was Doug's first car and he never wanted to let go of it, a slight problem when he lost it to his future wife in a poker game. He solved that problem by marrying her and suddenly Doug had two love interests, both of them in it for the long run.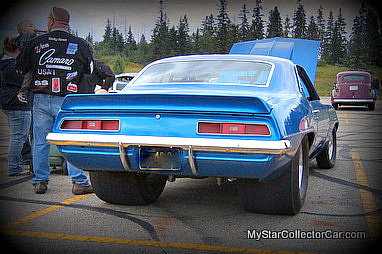 The three of them are still together after all these years and only the Camaro has undergone major cosmetic surgery and a massive heart transplant. The car started life as a mild-mannered six-cylinder rally green colored runabout with no street warrior evidence to be found anywhere under the hood.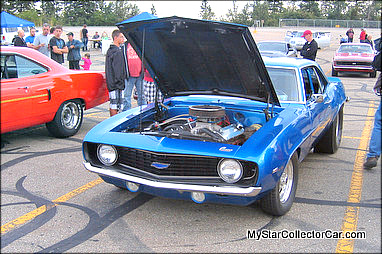 Things have changed a wee bit over the years under that hood: it now boasts a 427 monster Chevy big block and any evidence of its timid past now disappears in a hurry for Doug's muscled-up Camaro. This car is a seriously fast way to get from point A to point B.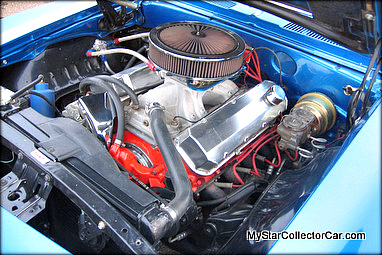 There was a ten year period when Doug simply parked the car because he was a young family man at the time and family has always come first for him. He had no intention of selling the car; he just wanted to make sure that he had the right amount of time and resources to do right by his Camaro.
The car has been through a few paint colors before Doug settled on the current shade of blue. There was one memorable occasion when he switched it from 1978 Ford dark green to a candy apple red color in a day and a half for a car show.
These days Doug seems content to enjoy time with his long time four-wheeled companion and his family at shows.
In fact, Doug's young grandson had a giant grin on his face when the little car guy was behind the wheel of the Camaro.
We predict that this car will be in the family for a very long time.
Jim Sutherland
Follow us on Facebook at-http://www.facebook.com/MyStarCollectorCar
Follow us on Twitter at- https://twitter.com/#!/MyStarCollecto1