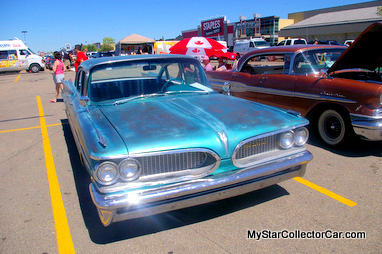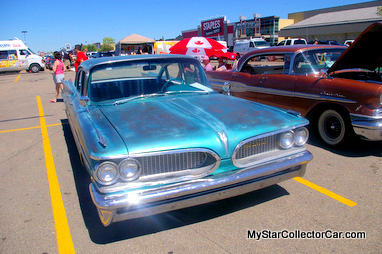 Virtually every father-son car project involves a natural progression in lineage.
The father brings his son to the game but, like every natural law, there is an exception.
This 1959 Pontiac 4-door sedan is a classic example of that scenario.
His son Ethan invited Jeff Steinwand to the car project party. Ethan had stepped into the game earlier with the purchase of a vintage 1970s boat tail Buick Riviera. The car fraternity fascinated Jeff so he decided to take on a car project based on Nathan's positive experiences as a car guy.
They had a family team meeting and they decided to take on a 500-dollar "tow it home" 1959 Pontiac Laurentian-the Canadian Poncho. This was literally a barn find so one of the first initiatives was an assessment of the mouse damage. This car was a mouse mega-city so the first part of the hands-on process was to eliminate the disaster caused by generations of Mickey and Minnie Mouse offspring.
Jeff insisted that every facet of this project had to done in-house. Jeff and Ethan were a team and as a team, they were determined to do everything from fabrication to mechanical. This was no mean feat given that Nathan had only one project on his resume and his dad was a rookie.
That lack of experience didn't deter Jeff from his "do everything, outsource nothing" game plan. They sold the factory 261 motor for the price of the car and bartered for a 1967 GTO transmission. The replacement motor is a 350 out of a 1983 Chevy truck and it was the result of some serious horse-trading.
Jeff is extremely proud of this Pontiac because it encompasses an old school car build philosophy where, as he explained, "everything is used, fabricated or rebuilt. The only things that are new are the car and battery."
The father and son team aren't shooting for a pristine car–Jeff favors the rat-rod look and that's where this car will be at the end of the project. Three weeks after the Pontiac hit the road, Jeff reported that "everything seems to be good now, there was lot of backfiring before the timing was set."
The genesis of this father-son project was a reversal of the norm, but the end result is the same…
A car project builds family ties whether the son or the father gets to the party first.
Jerry Sutherland
For more car "ties that bond" stories click here-https://www.mystarcollectorcar.com/2-features/stories.html