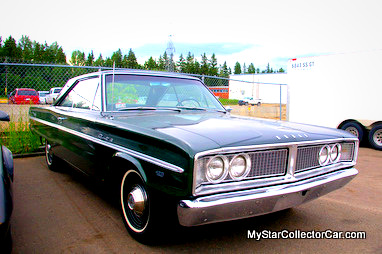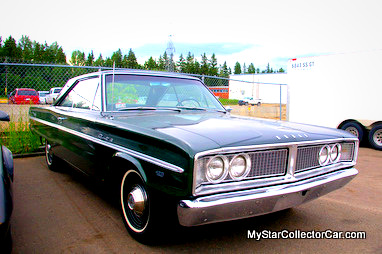 1966 Dodge Coronets were never the most aerodynamic vehicles ever built-the nickname "shoebox" stuck to them like a drunk sticks to an open bar.
These were sensible cars that Dad drove-functional, practical, affordable-every adjective that kids hated when it came to cars.
Then Chrysler stuck a NASCAR 426 Hemi in the shoebox and the magic began…
The "Street Hemis" turned the shoeboxes into blunt trauma missiles.
Pete Englemen has been a Mopar guy since his first lucid thought-that's when this first edition of the 2nd Generation Hemi hit his radar. Pete found the perfect car in this documented 32,000 original mile Coronet. Every piece of paper related to this car came with it and more-this car still had the factory Blue Streak tires and factory windshield washer fluid.
The Hemi Dodge was driven sparingly since its purchase in Cincinnati back in 1966. The owner drove it the old fashioned way…a ¼ mile at a time in the 1970s. The car changed hands in 1976 and it was stored until 2002 when it was rebuilt mechanically and the paint was touched up from the belt line down.
The Dodge was sold again and since then it had only accumulated 2700 miles until 2010 when Pete took delivery of this classic Mopar.
Pete is very realistic about his car so he accepts some of its limitations. The Hemi will never be confused with a Prius so he lives with the fact that 2/3 of a full tank will disappear in under 100 miles.
Part of that mileage deficiency stems from the 4:11 rear end- a vestige of the Coronet's racing career. As Pete explained, "at 110 mph that's enough" but getting there is worth every penny because "at 70-80 mph it's like a wild animal if you keep your foot in it".
Pete's biggest thrill with this car is that it's so unassuming in appearance-yet so dangerous. He likes the shoebox Dodge for its mild-mannered reporter looks that mask its Superman heart. Just like in 1966, in 2011 this car would barely merit a glance, other than it's clearly a conservative old car.
Until that Hemi lights up-then all hell breaks loose and the ambush is sprung. Pete basks in the stealth side of the car so the only giveaway is the little 426 Hemi badge on the fender. Everything else is undercover …from the dog dish hubcaps to the thin whitewall tires.
Pete and the car are going to be life partners. He knew what he wanted and he found the best.
The scariest shoebox on the planet.
Jerry Sutherland
For more great car stories click here-https://www.mystarcollectorcar.com/2-features/stories.html