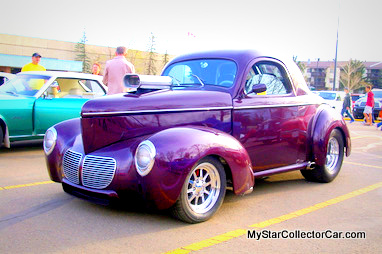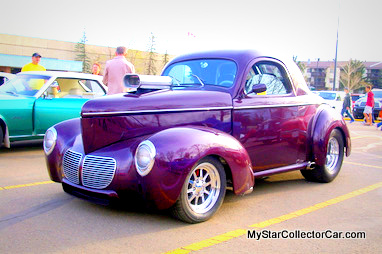 Barry Cunningham seems like a quiet unassuming guy when you meet him.
There is nothing in his appearance or laid-back demeanor to suggest that he has such a wild inner car guy hidden from view.
Until you see him behind the wheel of his over-the-top 1940 Willys that has frightening street monster written all over it.
Barry's Willys is an incredibly marriage of classic old school Willys good looks and modern performance.
When all is said and done, Barry's 502 (bored to 540) has 750 horsepower at the rear wheels. That explains the wheelie bars on this rocket.
The odd thing about Barry's car is its refined drivability because his Willys can sneak up on a car show without rattling the molars on show goers. His gated exhaust system can make the car sound like it doesn't mean very serious business if Barry chooses a stealth approach.
Despite the apparent civilized demeanor, this monster will still shove you back in the seat when it's pinned at 80 m.p.h.-not bad for a 1st place winner at a recent World of Wheels. Function and form in one package.
It is a marriage of total creature comfort and insane levels of performance. The paint, fit and finish on the car would likely draw serious attention at Good Guys or SEMA. And the power from the un-gated headers would spin your head around at any drag track.
The Willys is a well-designed street rod that can be civilized or uncivilized-your choice on the menu. Barry Cunningham is clearly a man beset with tough menu choices when he hits the street in his hot rod.
His inner race guy and his laid-back personality must have some serious skirmishes every time he gets behind the wheel of this beautiful show (and definitely go) car.
Barry must exercise some huge mental discipline not to let the inner race guy win the debate every time with this very special Willys.
Jim Sutherland
For more car stories click here-https://www.mystarcollectorcar.com/2-features/stories.html