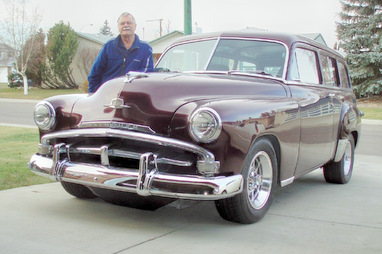 Gerald Schaeffler liked the looks of this early 50s Plymouth station wagon-but he also liked the idea of a car that could keep up with today's highly engineered cars.
He wanted a car that could accelerate, stop and handle on a par with a typical sedan from today.
He found this old wagon after it was retired as a service vehicle for a local electrical contractor.
Clearly a stock 1950 Plymouth wagon was a long way from meeting his standards so Gerald did the smart thing-a restomod. Gerald had one other condition.
This car was born under the Chrysler umbrella and he wanted it to stay 100% Mopar. It would have been easy to go crate Chevy 350 (many have) but Gerald saw an integrity and continuity by using all Chrysler parts: "The car is completely Chrysler from 1951 to 1995 Ram front seats & sports a 360 cu/in  engine with a 904 transmission, '75 Dart console & shifter, and 1981 rims & posi rear end. The steering column/wheel are Dodge Dakota".
The '51 Plymouth was a nine-year project for Gerald and he freely admits that it involved "the help of a few people during that period ". They were heavily involved in the installation of motor mounts, front K-member from a 1975 Dart and the final bodywork and paint.
Gerald had help with this old classic but he's also invested a great deal of personal effort into the Savoy wagon as his commitment to the project. The result is spectacular and fun. Gerald and his wife have traveled over 3000 miles traveling the car show circuit since the old Plymouth was done in 2008 and they truly enjoyed every mile.
The car, as expected, has been a huge draw every time they stop-Gerald says the car is a human magnet every time they fuel up or park at a show.
A true testimony to Chrysler design and engineering over 5 decades.