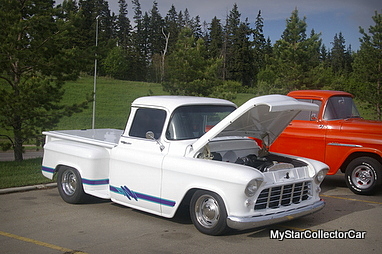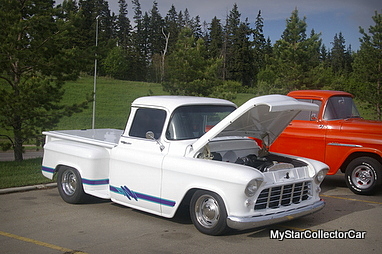 The 1955 Chevy pickup was part of a bold new direction for the General because both the Chevy cars and trucks received a massive makeover.
The cars marked the beginning of the legendary Tri- Five era and they still occupy a big place in the car hobby.
The 1955 Chevy trucks were unique because they were divided into two distinct models: the earlier Advance Design models which ran from 1947 to 1955, and the sleeker Task Force model which appeared in late 1955.
GM changed horses in mid-race during the 1955 model year with its trucks and phased out its dated post-war truck with the more contemporary (in '55) look of its Task Force truck. The new Task Force truck had more choices for its buyers, including optional 12-volt electrical systems and small block V-8s.
It was also time for a change for Dan Hartwick a few years ago when he decided to buy a vintage truck after year of vintage car ownership. He settled on this beautiful '55 Chevy from the first edition of the Task Force series.
Dan's truck has been upgraded in several ways from its factory specs. It now sports a smooth-running fuel-injected 305 small block that delivers plenty of punch for the 60-year-old truck.
The fuel tank has been moved to a rear fender location and now runs underneath the truck. One of the less desirable features in older trucks was sharing the cab with a giant gasoline container, consequently many resto-modders move the tanks during a rebuild.
The dual exhausts are designed to split around the new gas tank and offer a cool new look to the old truck.
The truck also has electric overdrive and will top 20 mpg at 70 mph (110km/h). There is a nice balance of performance and economy in Dan's resto-mod Chevy pickup. The Chevy truck has been upgraded with a Camaro front steering clip and rear end, so it "runs nice" down the road in Dan's words.
The Chevy is also pretty quiet at highway speeds because the vent windows have been removed on the truck. Vent windows offered a primitive form of air conditioning in their own way because they moved air, but they typically had rubber seal issues and made plenty of wind noise in the closed position.
Dan's Chevy has other upgrades, including power windows and a digital instrument panel. He tweaked the cooling system and added electric fans so there would be no overheating issue during the hot summer months.
One of the big features of the truck is its upgraded comfort from the original factory package and that angle plays well for Dan because his wife enjoys road trips in the Chevy. "A happy wife is a happy life" in Dan's words, and few car guys would disagree with him.
He added; "Whatever she says is a good idea".
It sounds like she likes the truck and that is a great idea for Dan and his '55 Chevy.
Jim Sutherland
CLICK HERE to Like us on Facebook
CLICK HERE to Follow us on Twitter
CLICK HERE to Follow us on Pinterest
*Re-post if you like this MSCC article…thanks.