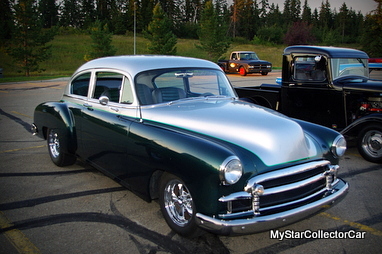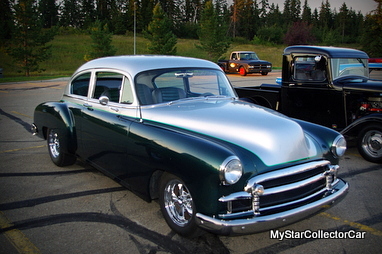 The early 1940s to early 50s Aero roof line Chevys were part of a clear migration from "pure function" to "function with a touch of form".
This fastback look was put on hold in 1942 thanks to a little event called World War II.
Fortunately the Aero roof returned in 1946.
Doug Odiorne is the proud owner of a very cool 1950 Chevrolet Fleetline. He wanted a car with a lot of his fingerprints on it and he was lucky enough to be in the right place at the right time. His buddy had one, started to build it then ran out of steam on the job so Doug took it on.
This '50 Fleetline is far from stock because it has a mammoth big block Chevy under the hood. Doug explained "it's a 468 cubic inch because it's a 454 bored out". Not many guys see a Chevy big block as a starting point for something bigger but Doug is clearly a man of vision.
Doug's brother in law did all the body work and one of his buddies painted it in his garage.
Most retrofits have some kind of struggle built into the equation and this '50 Chevy had one major issue. Doug explained how narrow the space was under the hood so he added an S-10 front end and "narrowed it so the front wheels would fit inside". Doug admits he has to take the booster off to remove the valve cover but most resto-mods have a much bigger list of problems.
This beauty has a few other tweaks under the skin including a Ford 8.8 inch rear end out of an Explorer "you can buy them for about 400 bucks" and a 700 overdrive transmission. The front seats came out of a Grand Cherokee and the AC controls are fitted in the area where the old radio sat for decades and this '50 Chevy has tilt steering. The bumpers were re-chromed and the front one "was turned upside down" so this car has a flashy, yet slightly altered look.
Doug also personally applied the pin striping to the car and it works in a big way because this car looks great.
Doug's Chevy is typical of most major projects because he's actually a test pilot for the first few hundred miles and this one has had a few surprises. Doug "loves the ride" but admits the "back end gets a little squirrely" so he's still working on the geometry of the leaf springs in aft portion of this classic rod.
This car has done a few significant runs and the slightly twitchy back end is the only real issue in this heavy Chevy. He's careful to watch all the gauges and when he sees the temperature rise he "turns the fan on and it cools it right down".
The key to success with this car is Doug's blood in the game. He took on a project back in 2007 and brought a car back from the brink of being a rolling parts bin.
These types of projects are not for the weak because when you resurrect a project you are definitely working without a net.
This Chevy Fleetline is truly mix and match with a classic look.
Jerry Sutherland
CLICK HERE to Like us on Facebook
CLICK HERE to Follow us on Twitter
CLICK HERE to Follow us on Pinterest
*Re-post if you like this MSCC article…thanks.