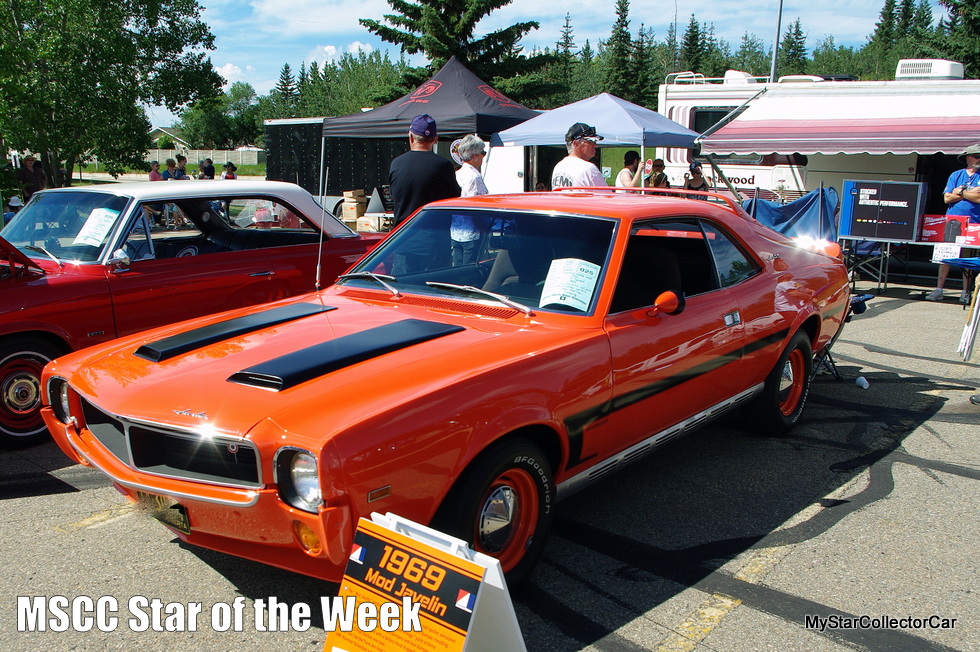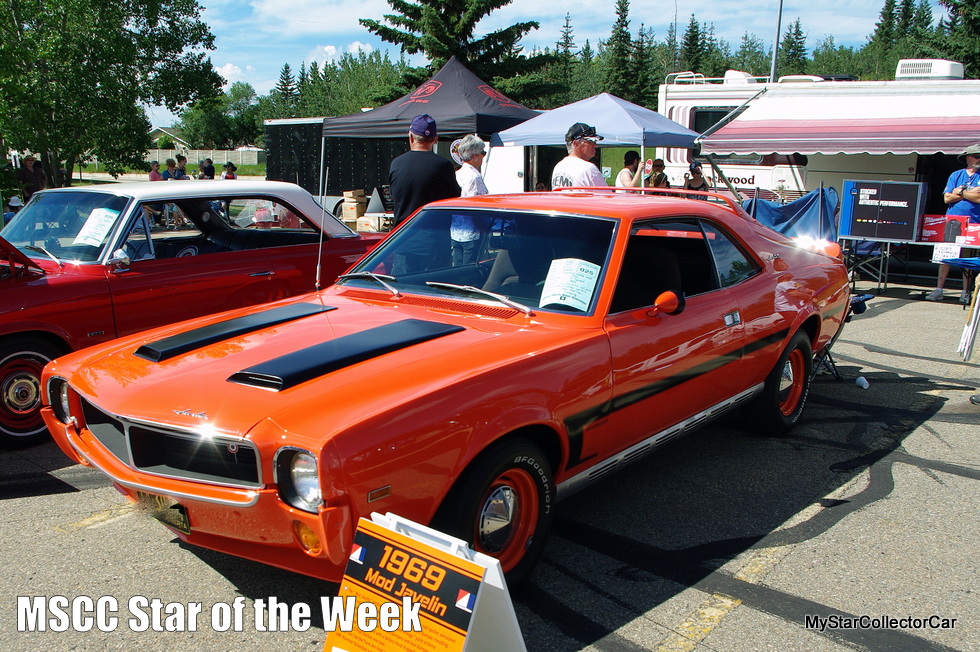 MSCC AUGUST 14 STAR OF THE WEEK: '69 MOD JAVELIN—AMC 60S COOL  
Anyone over 55 will remember the Mod era in the 60s.
'This was the "Swingin' 60s" and London was the epicenter of the movement that gave us Mod fashions and Mod attitude and every kid in 1967 Junior High tried to grab even a small piece of the cool factor.'
Car manufacturers caught Mod fever too with the Mopar Mod tops and virtually every car ad tried to capture some kind of Mod vibe.
AMC captured the Mod vibe with this MSCC Star of the Week Mod Javelin edition.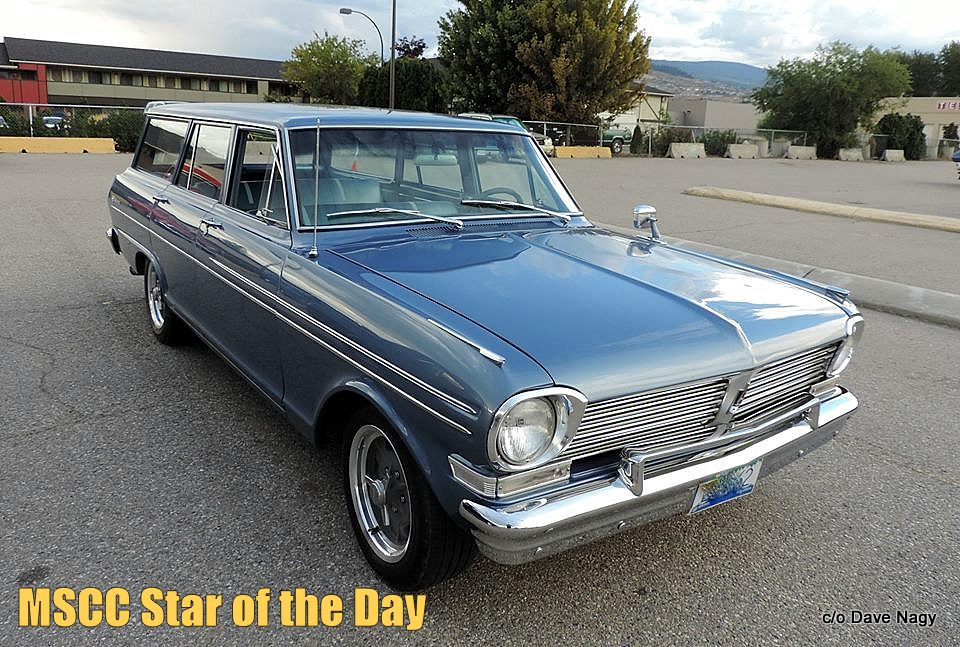 MSCC AUGUST 13 STAR OF THE DAY: '62 ACADIAN WAGON—A RARELY SEEN CANUCK LONG ROOF
Vintage long roofs have taken on a life of their own in the collector car hobby.
'Station wagons were the stars of the demo derby world and many were mercilessly (and needlessly) sacrificed to an activity that barely qualifies as an automotive sport.'
The world lost a lot of cool wagons in the process but their spike in value means they'll be fewer long roofs put through the meat grinder known as the demo derby.
This MSCC Star of the Day '62 Acadian wagon is a rarely seen Canuck long roof.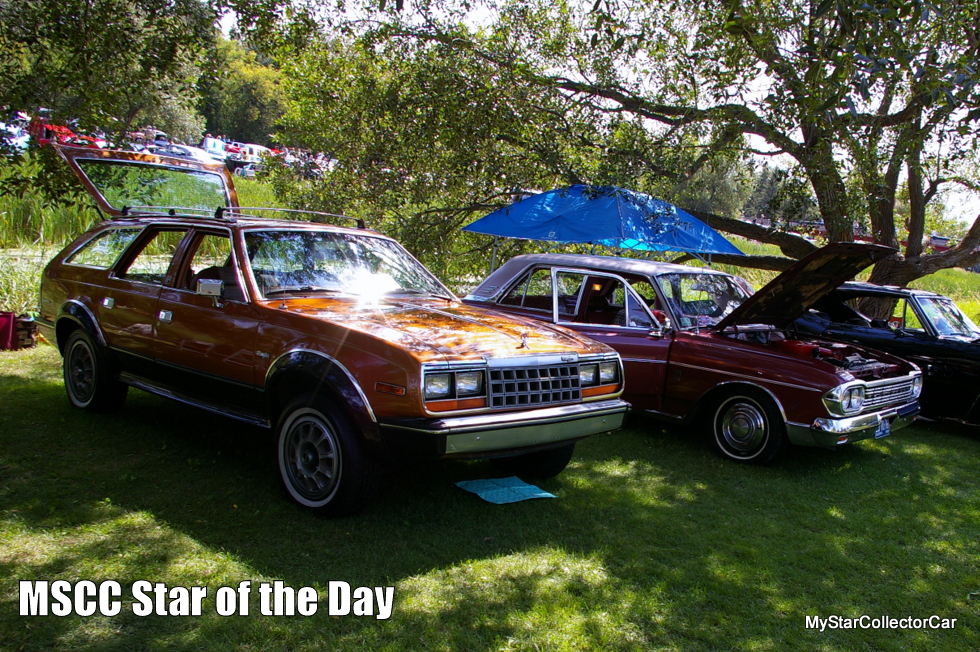 MSCC AUGUST 12 STAR OF THE DAY: RAMBLER CLASSIC AND AN EAGLE—AMC HISTORY IN A ROW
AMC played a great chess game over the years.
'They were a small but stubborn car company and they won customers over by building practical, reliable cars and finding a niche market for unique vehicles.'
AMC built a whole new class of vehicles when they introduced the first versions of the SUV after acquiring Jeep in 1970.
This MSCC Star of the Day is an example of AMC history in a row at a weekend show with a '64 Rambler Classic and an AMC Eagle.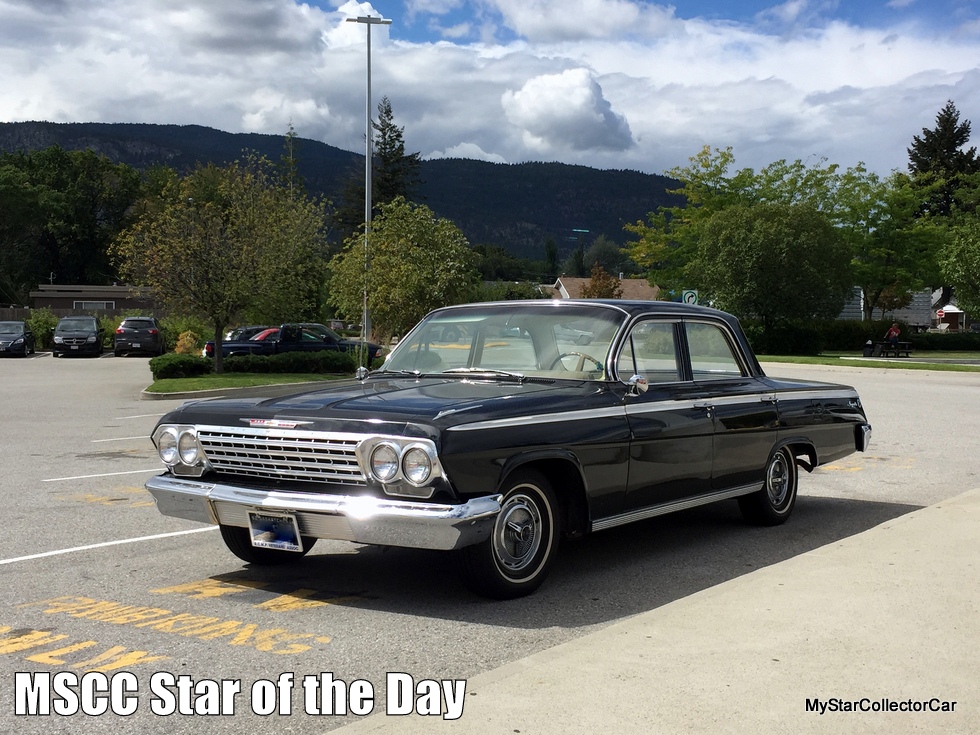 MSCC AUGUST 11 STAR OF THE DAY: '62 IMPALA—THE ANSWER TO THE QUESTION "DO THE EXTRA DOORS MAKE ME LOOK UGLY?"
MSCC has been a defender of the four-door sedan since April 2, 2009.
That's the first day MyStar went live and the 4-door sedan was part of the theme from Day 1.  
'Four doors are rolling parts departments for projects but thanks to more reproduction parts and the internet search parameters in 2016 there are more reasons to save them.'
Saving them means you'll see cars like this MSCC Star of the Day '62 Impala 4-door sedan—the perfect answer to the question: "do the extra doors make me look ugly?"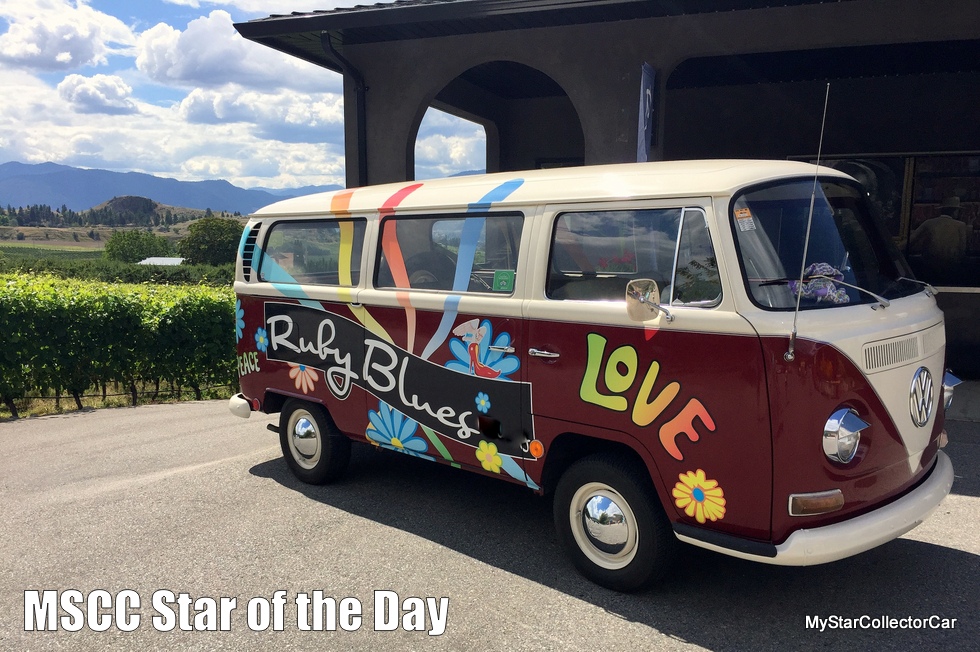 MSCC AUGUST 10 STAR OF THE DAY: PEACE AND LOVE MAKES FOR A GOOD MARKETING CAMPAIGN
The 1960s were known for many things like moon landings, muscle cars and great music.
There was also a counterculture dedicated to a culture of peace and love and their vehicle of choice was the VW van.  
'The combination of nostalgia with a good marketing campaign makes for a great way to attract Baby Boomers who love to channel their inner rebel when the mood strikes them.'
This MSCC Star of the Day VW van makes for a good marketing campaign to attract these closet hippies.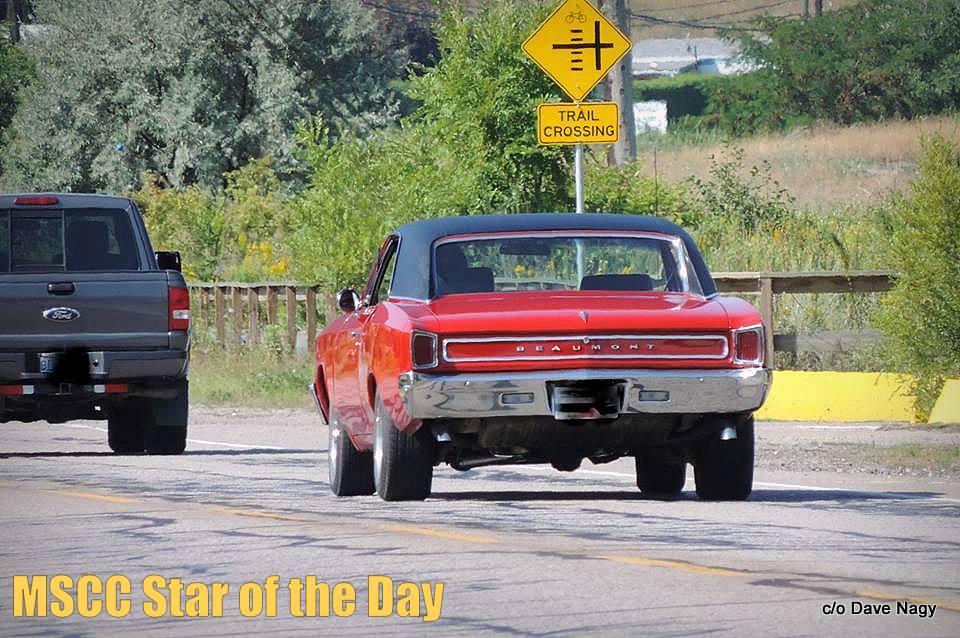 MSCC AUGUST 9 STAR OF THE DAY: A STUDEBAKER MAKES A MOVE IN TRAFFIC
Pontiac rolled into history back in 2009 but before that final chapter they produced some really interesting cars.
They had a long run and along the way they developed a cult following that extends to this day.
A Pontiac Beaumont sighting is a rare but welcome sight.
That's why it was so impressive to see this MSCC Star of the Day Beaumont make a move in traffic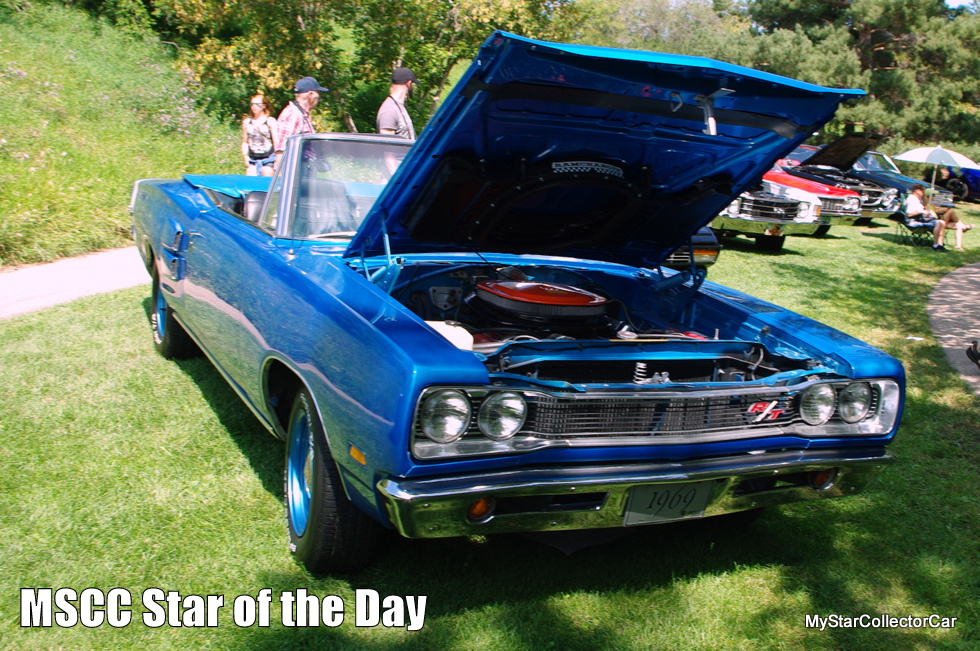 AUGUST 8 STAR OF THE DAY: '69 DODGE CORONET RT CONVERTIBLE—A RARE ROOFLESS MOPAR MUSCLE CAR
Classic muscle cars generally came with a roof.
There were many reasons for this because classic muscle cars were engineered to be straight-ahead machines—not handle like a 2016 Vette.
'A roof was a pretty good idea if you pushed a muscle car to the upside down point of no return plus wind noise at 135 miles per hour isn't as much fun as it sounds—especially in the back seat.'
That's why this rare (1 of less than 500) '69 Dodge RT convertible is the MSCC Star of the Day because you had to be pretty courageous to buy one right out of the showroom.
CLICK HERE to Like us on Facebook
CLICK HERE to Follow us on Twitter
CLICK HERE to Follow us on Pinterest
**Please re-post this if you like it.