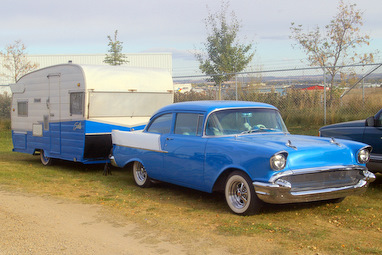 Trevor Comfort is a guy who was born a decade late. He's a 1950s guy who was born in the 1960s. Trevor is a huge fan of the Elvis decade-especially the automotive side. He likes the classic 50s hot rod look and he also happens to like the ultimate 50s icon-the 1957 Chevy.
And he liked the 50s holiday trailers-as a symbol of the carefree 50s vacation.

His fascination with the 57 Chevy came from an unusual source in the form of a local stock car that dominated Crossroads Speedway-the local dirt track raceway.
This was crude early 70s racing, but Trevor clearly identified with a blue and white 57 Chevy 2 door sedan that won-a lot.
That's all it took for an impressionable kid to make a lifetime commitment to a legendary "bow tie".
Several years ago, Trevor found a 57 Chevy 2 door post for sale.
It had been abandoned and the acreage owner wanted it off his property-Trevor jumped at the opportunity to own his childhood dream.
Fate was dealing the cards because when Trevor saw this car he was shocked to see that it was painted the exact same color as that blue and white dirt track car from his childhood. Trevor saw this as a sign that he was destined to own this car.
Trevor also found a 57 Chevy wagon parts car within 2 miles of the blue and white car fueling his theory that fate was taking a lead hand in the project.
The two cars provided a fair amount of entertainment for Trevor's friends and family at the time "I still shake my head over is that I towed the 57 wagon from east of Edmonton all the way home with my wife's 68 Chevelle powered by a 250 6 cyl. The wagon still had its 283,cast iron tranny in it too! What a sight this must have been going down Hwy #2. The other thing that's funny is when the 57 was dropped off my wife and my father almost fell on the ground laughing so hard at the project laying in my driveway. Who's laughing now?"
At that point in his life, Trevor was living in a mobile home where space was at a premium for his young family. Not only that, he had to do this project on a strict budget so he set realistic goals. These goals were heavily aided by Trevor's own mechanical and bodywork abilities so the household budget remained largely unaffected.
Trevor did a large part of the preliminary work in his small driveway and he began with a swap so the parts car donated a chassis. He did as much as humanly possible between working outside on the car using what little spare time he had between a full time job and full time family obligations.
The progress was remarkable, but not surprising given Trevor's natural talent, ambition and motivation so the car and new frame came together.
Then the fun began…