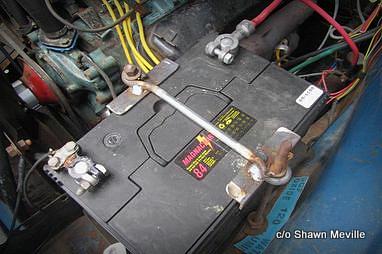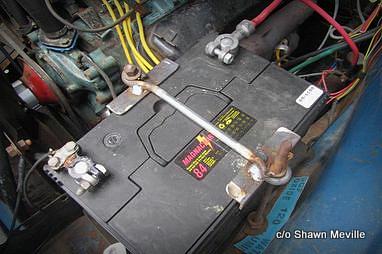 STARS IN REHAB PART TWO: '62 FARGO-A 3RD GENERATION PROJECT TO HONOR A GRANDFATHER
Most old rides don't come with factory power train, "The original engine and transmission were swapped out by the grandkid for a mid to late sixties 383 or 400 (haven't figured out which yet) with a three speed auto transmission.
"It looked like some parts of the engine swap were well thought out as the driveline, transmission cross member and engine mounts were well done".
Time wreaks havoc with old iron so the casualty list for the Fargo was long,"The wiring and brake lines…well…that is another story. For some reason four of the front frost plugs were missing, the exhaust was incomplete and the headliner wasn't shag carpet but fleece, the floor mats were shag. The box had bolts through it with no nuts and the hood latch was MIA".
Shawn confessed why he spearheaded the project,"Dylan isn't a mechanical kid. Now seventeen, Dylan has made some beautiful electric guitars, shadowboxes and turned bowls but he struggles with mechanics".
The key to success is simple as he explained, "It is an experience thing. His grandfather, Tom, had so many hot rods growing up in Rock Creek, BC, that if there were noise issues, disturbances or reckless driving complaints, the local constabulatory knew where to start. If one blew up, he would grab another. If the breakdown wasn't bad, he would try and fix it. Tom learned everything by doing, making mistakes and having success. Tom once bought a Harley Davidson knucklehead with a dead cylinder just to see if he could pull out the dead one and get it to run on one. He told me he sold it to an RCMP member who was going to take away his licence. Apparently the sale got him off the hook.
Some of Tom's DNA was clearly passed along and this became an issue as he confessed, "Dylan has a habit of collecting…stuff. With the addition of two trucks in our backyard, I needed him to show some interest in them beyond being able to say "I have my own truck." We set a goal of getting the truck to run and drive".
The game plan was simple, "I said there were two catches, right? The second catch was that before Dylan could drive it on the road, he had to promise his Grandpa Tom to fix the emergency brake.
"The original engine/transmission combo had an emergency brake drum mounted on the end of the transmission (I think). Other trucks of this vintage that I have worked on have had that set up. When the engine/transmission swap was done, the parking brake disappeared".
"To ensure Dylan's safety, Tom wanted him to have an emergency brake. I managed to find a rear axle out of an early 80's dodge van that had drums with emergency brakes in them. Add axle swap to the list of 'have to get done'."
The learning curve was steep but it produced results, "So, in the summer of 2011, Dylan did his first carb rebuild. I don't think he had a clue what he was doing but with some help (ok, TONS of help) he managed to rebuild the carb. With instruction, he figured out how to see if the fuel pump was working and how to hook up a battery safely. He fired up his truck for the first time".
The results were immediate, "It was LOUD (I mentioned the half finished exhaust right?). We tried to fill up the cooling system so he could drive it and that is when we discovered the missing frost plugs. We also figured out that the water pump didn't have a pulley to drive it and the fan was MIA. Suffice to say, the list was getting longer".
Jerry Sutherland
For Part Three of this Star in Rehab story please follow this link.