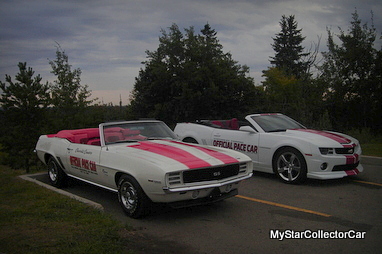 One night a pair of Indy 500 Camaro pace car convertibles rolled into a car show and stole the spotlight.
It is not often you get a chance to see an authentic 1969 Camaro pace car (from the 3675 limited production '69 models) teamed up with a 2011 Camaro pace car and travelling in tandem.
The reason for the pairing had a great deal to do with their owners because the drivers were a husband and wife team by the name of Brenda and Dean Watts.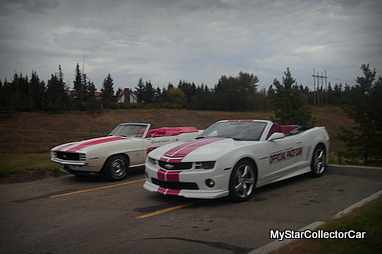 The Watts are proof positive a family that plays together stays together and what better way to play than in a classic commemorative Camaro pace car?
Seven years ago, Dean asked Brenda; "If you could have one muscle car what would it be?" and she was quick to answer; "a 1969 Camaro convertible pace car with a 396 four speed".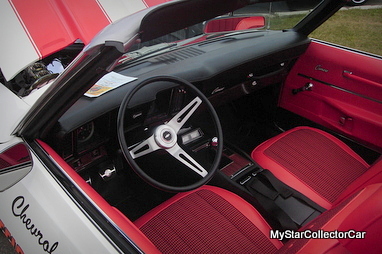 Dean had a buddy in Chicago who had owned one for 25 years and was only the second owner of the Camaro.
The car was clearly pampered and wears its 45 years very well in the new millennium. The elder Indy pace car has more of a brute force approach to the road when compared to its much younger stable mate, according to Dean.
The 2011 Camaro has a "lot more conveniences and a lot more attitude" in his words, plus "it is easier to drive" in Dean's opinion.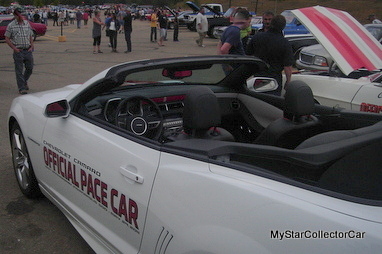 The 2011 version pulls over 400 horsepower and 400 ft lbs of torque out of its small block, so it gets down the road in a big hurry. It will also pass a lot more gas stations than its 1969 predecessor because it gets around 30 mpg on the highway.
There were also only 50 official Camaro pace cars made in 2011, so it even beat the '69 in terms of rarity.
It is a given the 2011 Camaro will do almost everything better than the 1969 Camaro, but the earlier Camaro will always be a reminder of a bygone era in muscle cars when big blocks in pony cars were the stuff of dreams.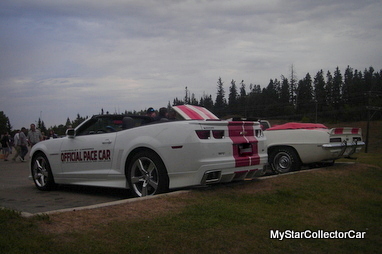 A 396 engine will always be a big part of that dream for fans of the General and an original big block-equipped 1969 Camaro Indy 500 pace car convertible will get plenty of attention at any show, perhaps more than the rarer 2011 for most car guys.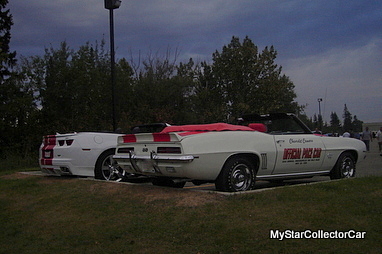 They landed on the moon in July 1969 and they held a little musical gathering called Woodstock later that same summer, but Memorial Day weekend in the spring was the first time we saw the 1969 Camaro pace car lead the way in the 1969 Indy 500.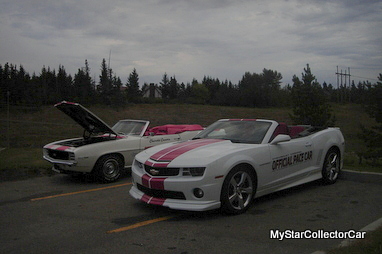 This may not have been as earth-shaking a moment as the lunar landing, but it was an impressive way to lead the charge at Indy in '69.
It was also an impressive way for Dean and Brenda Watts to lead their own charge into a car show last year in early autumn when this husband and wife team showed up with his-and-hers Camaro pace cars and stole the show.
Jim Sutherland