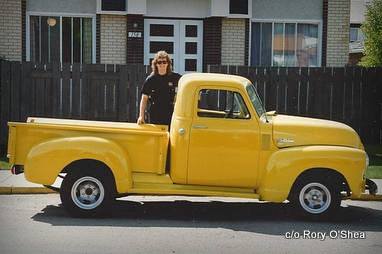 Rory O' Shea was a young rock jock from southern Ontario when he decided to head west in the back nine of the 80s and take a job in Calgary, Alberta, Canada, home of the world famous Calgary Stampede rodeo.
Rory had always been interested in classic cars almost as much as he was interested in classic rock, so he decided to dive into the old car hobby when he was in Calgary.
Rory had already owned a stylish Ford Falcon Sedan Delivery wagon in the early 80s, so he was pretty open-minded about his search and simply wanted to purchase something from automotive's golden past at a reasonable price.
Clearly it was somewhat appropriate when Rory found a 1951 Chevy pickup in a city famous for its western roots and cowboy culture.
A vintage Chevy truck would be a good fit in Calgary and an even better fit when Rockin' Rory O' Shea took his on-air talents to Red Deer Alberta and its new FM rock station Z-99, affectionately known as the "Zed" by its Canadian listeners.
Red Deer is a small city 90 miles north of Calgary with a mixed economy based primarily upon the oil and farming industry. The pickup truck is king in Red Deer and Rory's vintage Chevy was a perfect choice for life in that community.
Rory played a generous amount of Led at the Zed while he was in Red Deer because it was no secret his favorite band of all time were the godfathers of heavy metal, Led Zeppelin.
His signature sound may have been Led Zeppelin, but his signature set of wheels was his trusty old yellow pickup truck.
The Chevy was actually pretty stock, outside of its canary yellow paint job and custom mag wheels.
This Canuck truck still had its Canadian 235 six-cylinder and 3-on-the-tree manual transmission, so Rory calls it his classic "all show and no go" ride.
It was a well-preserved truck with no bondo or rust under its bright yellow paint.
Rory recalled a vicious hail storm while he was on-air in Red Deer when the noise of the hail came through loud and clear in his disc jockey booth, despite the triple layer windows on the building designed to eliminate outside noise.
He expected to see a battered yellow pickup truck outside the studio, but instead he found no damage to his truck, unlike all of the newer vehicles in the lot which sustained significant damage. Heavy metal was clearly a big component of his truck as well as his music.
Rory returned to Toronto in late 1992 to work for the legendary rock station Q 107 and he brought his trusty old Chevy with him. He put "ROR ROX" vanity plates on the truck and drove it until he pushed the six-banger past its limits to a point where he blew it up.
Life in the fast lane was too much for the old Chevy engine and Rory had to rebuild it at double the truck's purchase price from his Calgary days.
Over the years Rory had thought about a 283 or 327 conversion for his truck and declined to make the swap because of the cost.
The engine was rebuilt and Rory reached that painful part of his life when he knew he had to sell his loyal old pickup truck.
He had begun to branch out in his career and was an on-air personality with the Weather Network while moving forward with his voice-over business, along with some TV commercial and acting roles, an experience started early in Rory's life when he worked as a teenager with the late John Candy in a Heinz commercial.
These days Rory owns Imedge Communications  and his voice can be heard on everything from TV shows to commercials, to movie trailers, to training films and everything in between.
Rory wanted to add, "that's Mum standing there – she joined me on the radio numerous times in RD & Toronto and was a hugely popular guest!".
Two things remain constant through all the years of change for Rory: he still misses his faithful old Chevy truck and his mom Peggy from his adventures as a young disc jockey.
Jim Sutherland