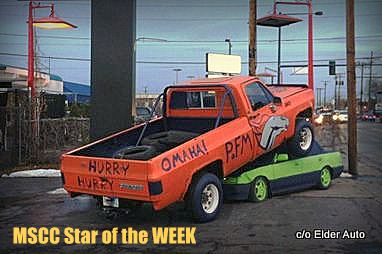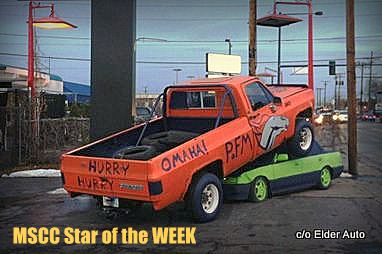 MSCC FEBRUARY 2 STAR OF THE WEEK: CHEVY PICKUP VS HONDA-A SIGN OF THINGS TO COME ON SUPER BOWL SUNDAY?
This is Super Bowl 48 so Sunday primetime TV will clearly be a one-trick pony tonight.
There are only two teams left to battle for the prize and that means either Denver Broncos or Seattle Seahawk fans will be crushed or on party mode at the end of the game.
Sports are built on taking sides, picking your team, wearing your colors-whatever it takes to tell the world you are a dedicated fan.
Some fans paint their faces or get tattoos and a few even paint their rides team colors to emphasize team spirit.
Elder Auto in Denver took it a little further because they wanted to be very clear about who they supported and what the outcome would be in this year's Super Bowl.
This MSCC Star of the Week is the Denver Bronco Chevy pickup parked on top of the hapless Seattle Seahawk Honda.
This display will may become a permanent fixture if Denver crushes Seattle tonight.
MSCC FEBRUARY 1 STAR OF THE DAY: '69 KARMANN GHIA-STYLE THAT SURVIVED FOR THREE DECADES
Volkswagen produced the Karmann Ghia from 1955 to 1974 in essentially the same form. These cars had a timeless look from Day 1 because they were cutting edge in 1955.
They were a working man's Porsche because they had the style of a sports car and the simplicity of a Volkswagen Beetle.
The Karmann Ghia's style was so timeless the car carried on effortlessly into the 70s with very few changes on the surface.
These cars have become a fairly solid investment because they age well and they're so basic so it's no surprise this MSCC Star of the Day '69 Karmann Ghia did well at an auction back in September.
MSCC JANUARY 31 STAR OF THE DAY: '69 CAMARO-HIT THE STREETS…DON'T HIDE A CLASSIC
There is really only one reason to buy an old ride-you have to drive it. Spec buyers and museum owners may disagree but classic rides are supposed to be fun.
Park them in a garage then trailer them to shows and you've sucked all the joy out of the hobby.
'69 Camaros are a fairly common sight at most car shows because there is a huge following for them but they're still a rare and very welcome sight on the road.
This MSCC Star of the Day was in traffic back in May 2008 and it begged the question- why hide a work of art?
JANUARY 30 STAR OF THE DAY: '49 METEOR CONVERTIBLE- A SHOEBOX FROM NORTH OF THE BORDER
The shoebox Ford is one of the most beloved cars in the world of old iron. They were the first entry-level cars to offer something more than a warmed over post-war design to the buying public.
Shoebox Fords were lower and wider than the post-war Fords so the buy-in from the hot rod and custom fraternity was instant and committed.
Shoebox Fords were just as popular north of the border in Canada but some of them were called Meteors.
They were no less cool-this MSCC Star of the Day '49 Meteor convertible back in 2009 is clear evidence that a shoebox Ford under any name is a classic.
JANUARY 29 STAR OF THE DAY: '53 CHEVY POST-HOW TO FIND A LION IN A PARKING LOT FULL OF ZEBRAS
We've all been there-you pull into a parking lot in any given town or city and it's a sea of bland, clone cars.
They're all silver,blue or white and you need a guide dog to navigate through the fleet of sameness.
It's like a herd of zebras because they blend together and you have to be a zebra to notice the difference.
This MSCC Star of the Day '53 Chevy was in a parking lot full of zebras last summer and there was no question which car was the lion.
MSCC JANUARY 28 STAR OF THE DAY: BRITISH ROYALTY ON THE ROAD-AN XKE UPS THE CLASS ON A SUNDAY DRIVE
Jaguar XKEs have become the gold standard for British cars in recent years and that makes sense in many ways.
These cars were a spectacular addition to traffic back in the 60s because they looked like a jet next to a Piper Cub.
XKEs looked fast and they backed up that look because they were fast-clearly this wasn't a case of false advertising.
This Star of the Day Jag was on the street a few months ago and this classy Brit still made modern traffic look like a Piper Cub next to a jet.
MSCC JANUARY 27 STAR OF THE DAY-ANOTHER DIPLOMAT STILL ALIVE AND WELL
The Dodge M-body Diplomat was built for function over style so they were a favorite ride for grandfathers, police and cab drivers across North America.
They were all over the place in the 80s and well into the 1990s but by the 21st century these cars were disappearing faster than bullets at an NRA social.
They were victims of age and style that reflected the disco era more than the Internet era.
Despite the odds against these cars you still see the plucky survivors like this MSCC Star of the Day Dodge Diplomat on a January winter street a few days ago.
That's another testament to function over style.
Star of the Day page sponsored by Southside Dodge.