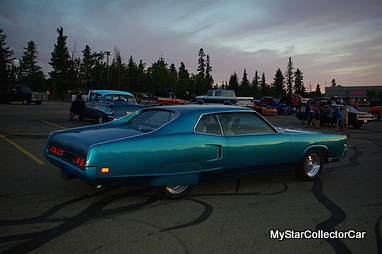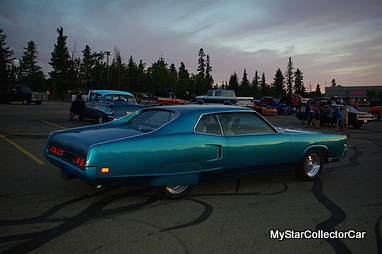 An early 70s full-sized Mercury Marauder is an imposing sight on today's roads.
They are large-and-in- charge machines with massive size and presence.
These big Mercs have hidden headlights and massive horsepower under their giant hoods.
The Mercury brand was always an upscale label from the Blue Oval boys-not quite a Lincoln but higher on the food chain than the Ford brand.
They were associated with elegance more than performance during their long run in Henry Ford's stable.
The Marauder name actually began life as a name for a 383 cubic inch/330 horsepower engine option in the 1958 Mercury Montclair and Colony Park models.
The growth of the North American freeway system in the 50s meant safer and faster roads for motorists, thus the need for powerful engine options in late 1950s cars.
The name Marauder for an actual car model first appeared on a mid-1963 Mercury and continued until 1965. Marauder went back to its original designation as the most powerful engine option offered by Mercury for the next few years after the initial model run in the mid-60s.
The Marauder was resurrected in 1969 as a full-fledged model under the Mercury banner and only ran until 1970 before it was once again banished from the Ford family until a very brief resurrection in 2003.
This brief history of Marauder brings us directly to the story behind a 1970 Mercury Marauder we spotted at a summer car show.
These cars are pretty hard to miss and Gord Steppner's family legacy was a striking example of the long lost full-sized Mercury from the early Nixon years.
Gord's Marauder was previously owned by his own father and was a summer vacation workhorse for their family trips.
Presumably they got there in a hurry because this family chariot has a 429 cubic inch monster under the hood and a big four barrel to pass everything but the gas station on a road trip.
The road tests of the day indicated these Marauders had plenty of horsepower and a generously significant 13-15 mpg thirst for premium leaded gas back in 1970.
The saving grace was cheap pre-oil embargo gas in '70, but these full-sized Mercs required plenty of pit stops on family vacations.
For Gord, the concept of fuel mileage is not a big part of the equation for his ownership because pure nostalgia is the biggest reason behind his Marauder. The car represents so many memories from his childhood and that makes it priceless for him.
The car became Gord's in the early 90s and he completed its restoration by 1997. The Marauder now sports an air ride suspension, along with rack and pinion steering to make it drive even smoother down the road. The interior has been refreshed and now the old family vacation car has a brand new lease on life.
Clearly, Gord truly enjoys time behind the wheel of this remarkable car from his own childhood. He has breathed new life into a car that clearly means a great deal to him and his family.
We at MSCC salute him.
Jim Sutherland