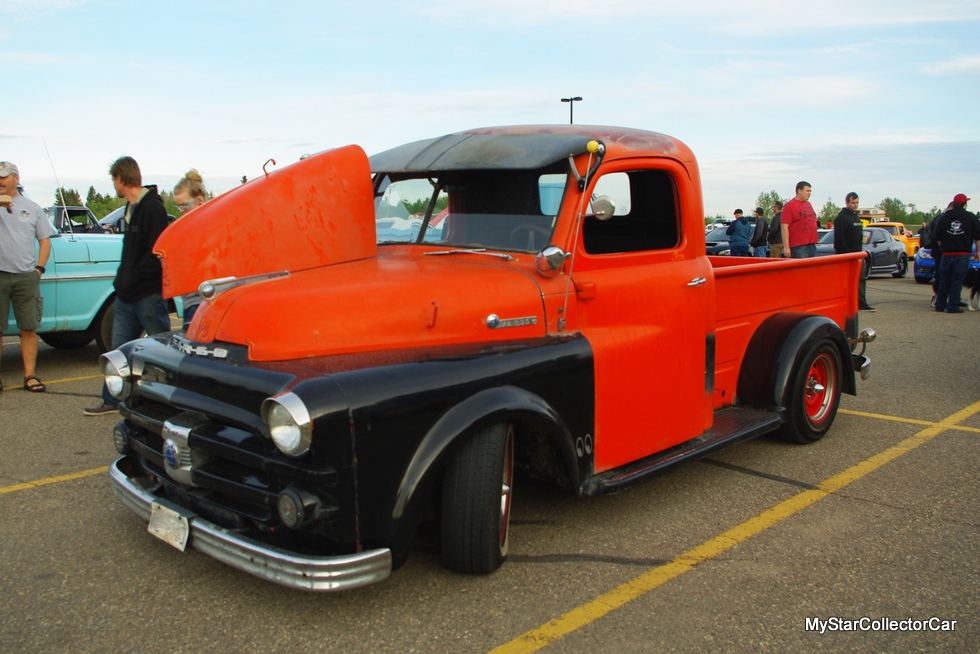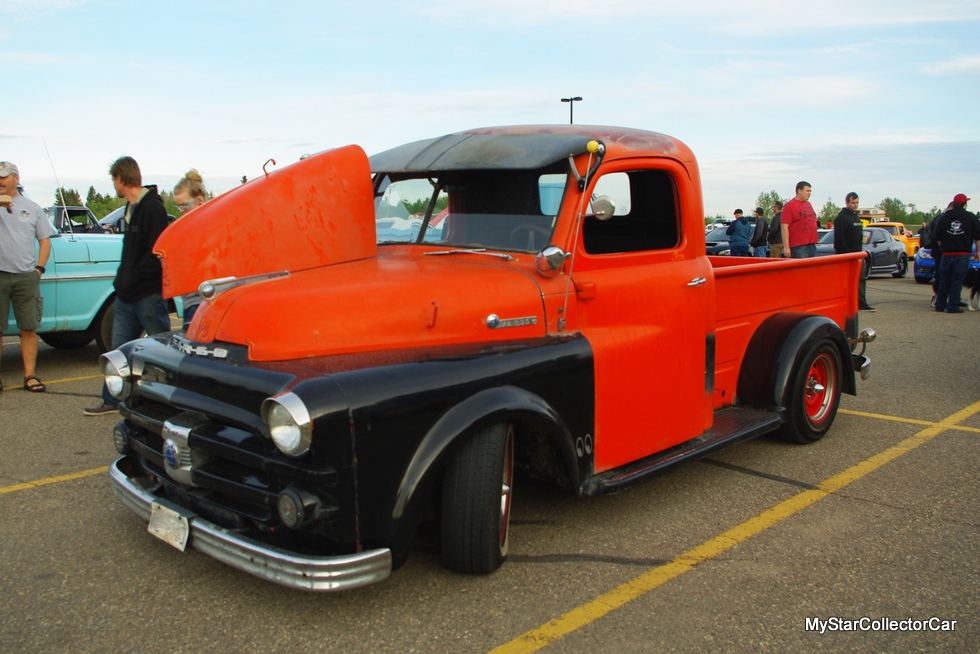 One of the most interesting scenarios in the car hobby is the female owner who wrenches on her old car or truck.
Unfortunately, women aren't a big demographic in the car hobby but when they do appear at a show MSCC likes to grab the story.
'That can be difficult because car guys flock to vehicles owned by women so the photo opportunities have to wait until the crowd dies down and this '51 Fargo resto-mod was no exception.'
Rose Anderson is the proud young owner of this classic old truck and she was very willing to explain the history of this old Fargo. She bought it "as a roller a few years ago" in a deal where she "sweet-talked" him into selling his project after "he got tired of it". She'd owned a rat rod before the Fargo and she felt the urge for another project.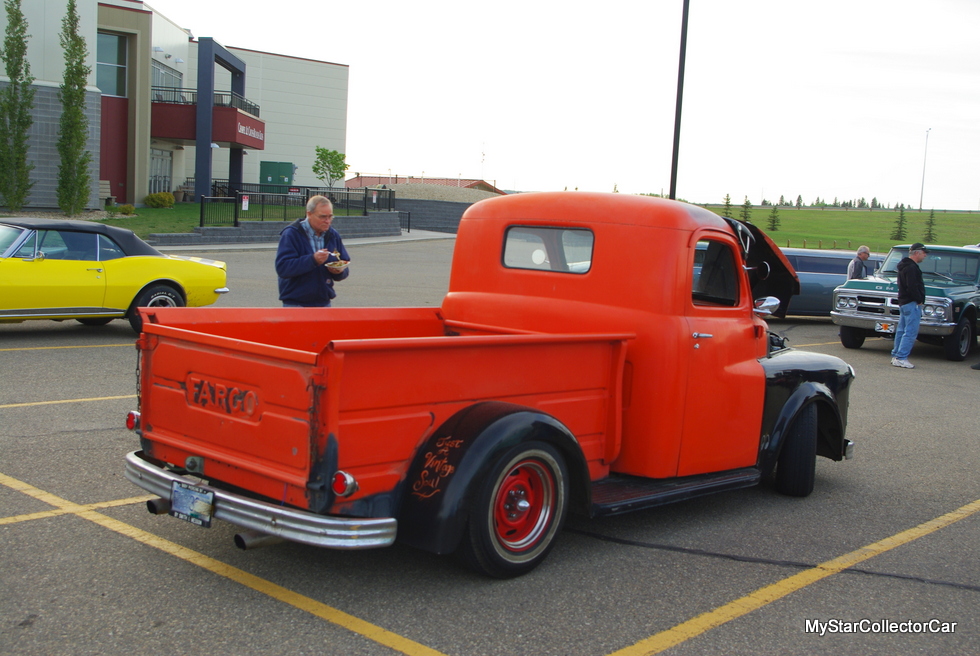 The Fargo was well along in the project stage because it already had a Volare front end and it was set up well for a Mopar small block. Rose took over at this point because she knew she had the talent and drive to finish the project plus the truck was in "pretty good shape because it was a service truck and it stayed inside".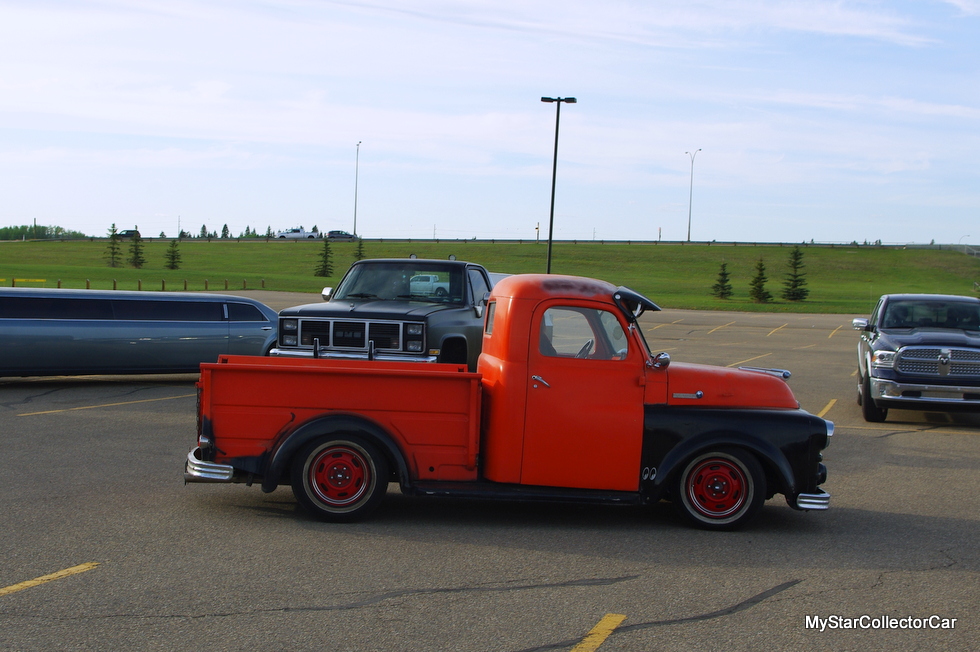 Rose explained how she, "used to work in an auto body and restoration shop" so she literally learned the process on the job plus her dad is a millwright so he taught he to have high standards for her work.
She found an LA 318 and 904 automatic transmission in an old Dart and set it up in the Fargo so well it looked like it came from the factory. She took eight months to get it where "it was safe" on the road. There were many other details like the wiring because this old truck had to be completely rewired plus Rose added new gauges and switches to the mix and she did it all with a huge sense of pride in her work. She added dual electric fans to the front of the radiator because the conventional setup tended to overheat.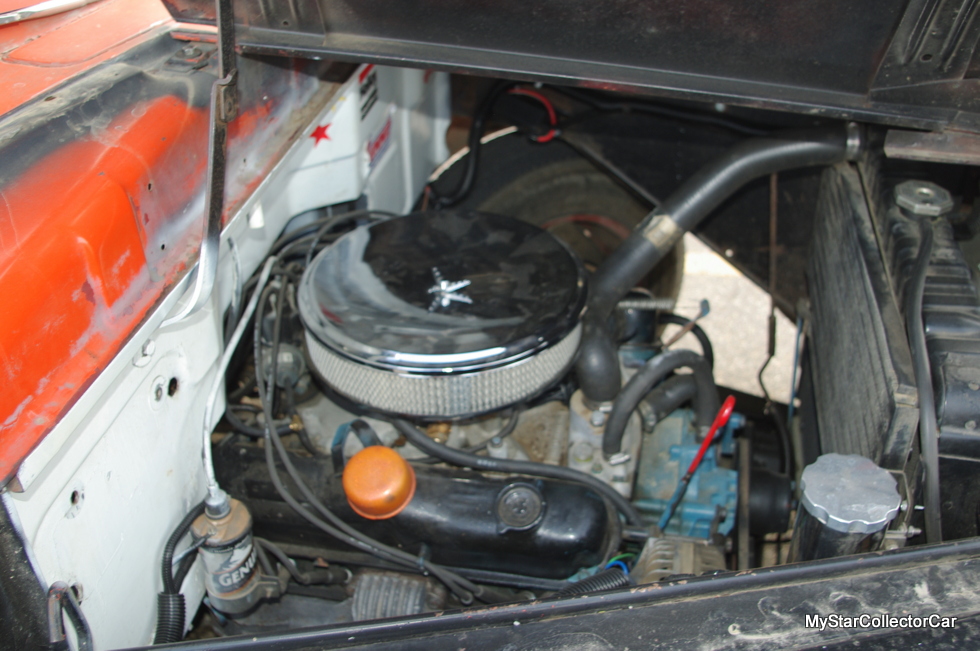 The Fargo also has a '55 Chevy gas tank rear-mounted in the chassis plus the rear bumper is off a 1940s Plymouth.  Future plans include a better sound system and some tweaks to the carb.
This '51 Fargo is a road warrior because Rose has no trouble running up hundreds of miles behind the wheel of her old truck and she's had a few adventures on the way. She explained one incident when the "rear end slipped out and it got really hairy" because it stuck out enough to damage the passenger side tire and fender.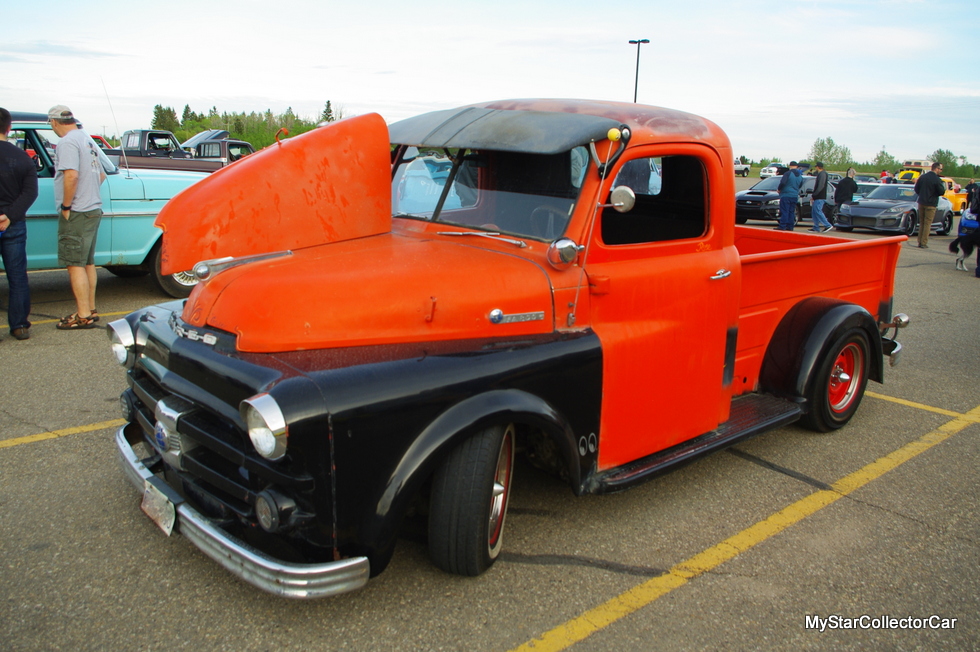 Rose has had a few other adventures too because the gas gauge doesn't work so she's run out of fuel "a few times" plus the truck quit in traffic one day but Rose said "a bunch of guys helped push it off the road".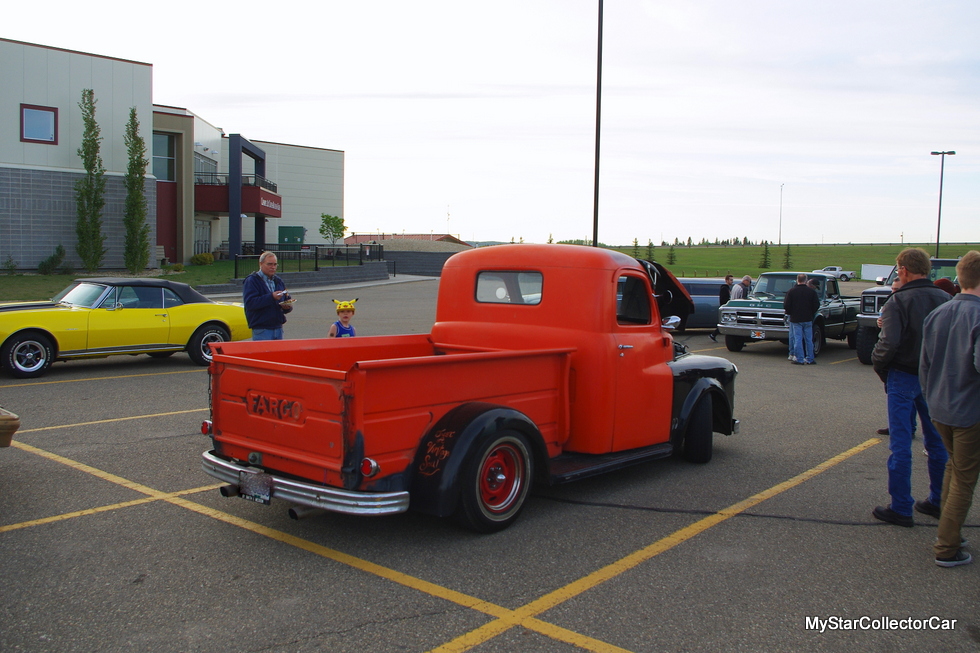 She's also had to deal with a lifter problem—she "had to replace six of them because they were completely seized" but the Fargo has been consistently consistent for Rose.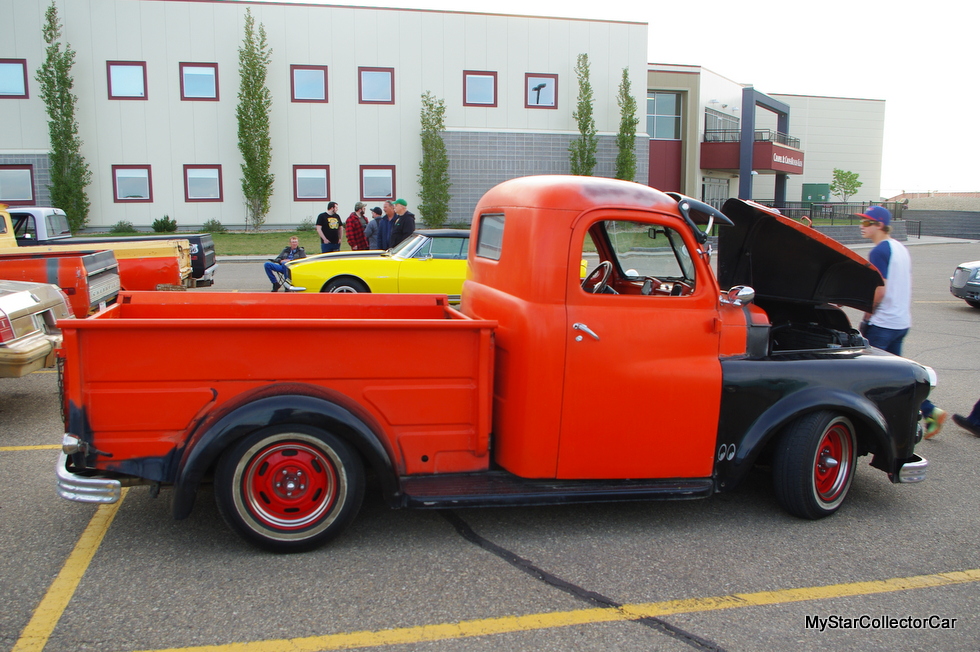 Rose has many personal touches on her Fargo including the name 'Grace'. The truck is named after the legendary Princess Grace Kelly because Rose liked her attitude.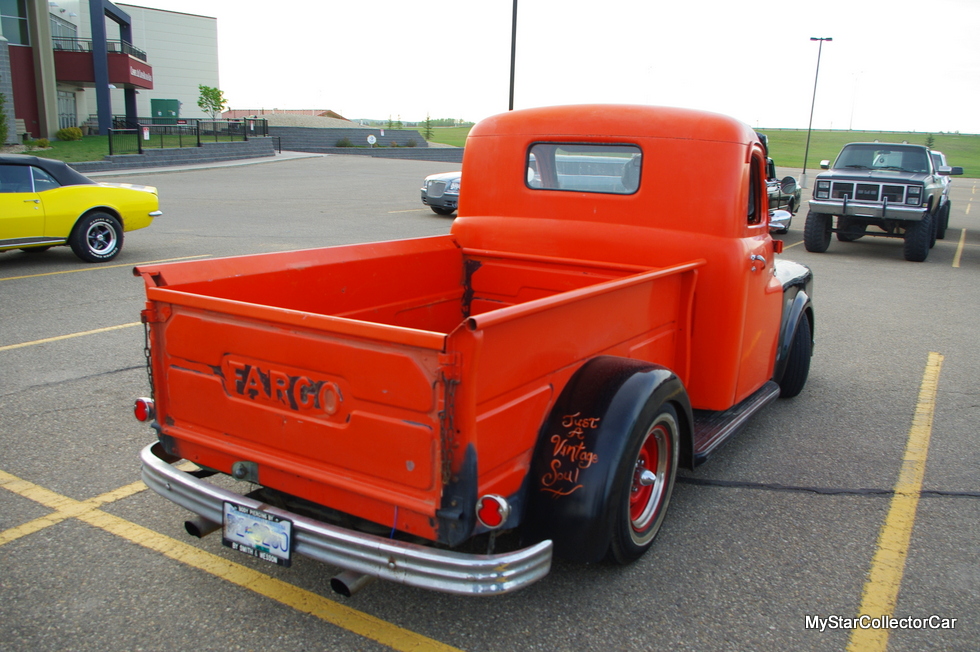 Rose has that same attitude—she explained why she likes wrenching on her Fargo:
"It's too much fun to let the guys work on them".
Jerry Sutherland
CLICK HERE to Like us on Facebook
CLICK HERE to Follow us on Twitter
CLICK HERE to Follow us on Pinterest
Please re-post this if you like this article.