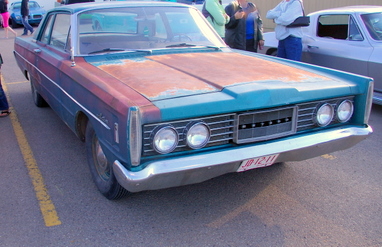 Mike is in his mid-20s so naturally he's not a poster boy for ownership of a pretty basic 40-year-old 4-door sedan.
That's the beauty of this world-clichés don't exist.
Mike spotted this forlorn but solid example Ford refugee from the LBJ presidential era in 2008.
The car had a pretty short working life-the last time it had run was in 1976. That's when they shot off all the fireworks to celebrate the Bicentennial of the good old USA so the recorded mileage was for real.
Starting a car that last ran when disco was just becoming an evil force in music takes the preparation of a shuttle launch.
Mike had it covered.
He's an old school guy with a new birth date-the car was running in less than hour. Mike did all the right things with the gas, oil and battery-the common sense approach. The car is going to stay as is-for now.
He has the 352 running like a clock and the main focus is on the detailing. This '65 Meteor sat in a dusty field through too many nasty winters but Mike has the car looking better every day. What's the future hold for this sensible mid-60's family sedan? For one thing, it's going to have a much better passing gear with its new punched out 460 big block 4 speed heart.
Mike should have that covered within a year or 2 but right now he's experiencing the best of the car universe-driving an old car with a new future.