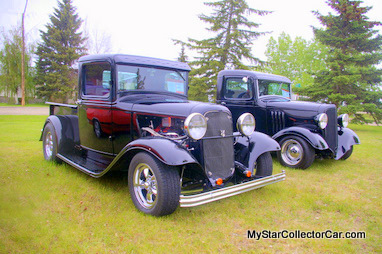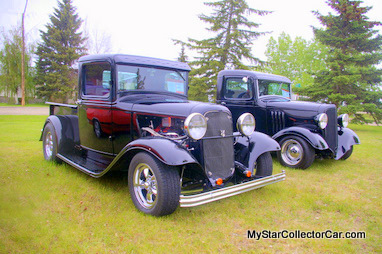 We have spotted these two trucks at a couple of car shows already in 2011.
The Bowtie and the Blue Oval ½ tons seemed to look even better in tandem, so we assumed that their owners were two good buddies.
It turns out that they live in the same town, but they have only just met as car show buddies, and the two trucks just look great as a pair in shows.
So they like to park the trucks together when they attend shows, and that plan is a great attention-getting device.
Theron Blackmore owns the 1934 Ford resto-mod in the pair. He is a trucker by profession and he has always been a fan of trucks; a philosophy that spills over into his hobbies.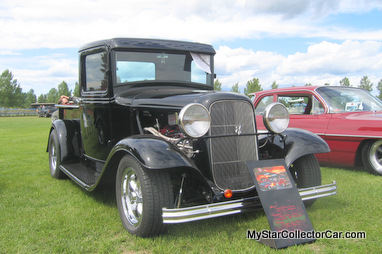 The '34 Ford ½ ton has a 355 Chevy heart to get it down the road, and it is a driver. Theron believes that "3/4's of owning it is driving it", and we cannot find fault in his logic. Theron also notices the broad base of appeal of people in ages ranging from "5 to 75" that like his truck.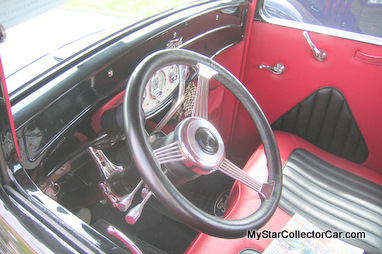 He believes that his truck has broader curb appeal because it is an unusual vehicle at a show and that " not as big an age group" looks at muscle cars. We also liked his plate (RISNSUN) that he had to explain to us.
It refers to the song 'House of the Rising Sun', a favorite of Theron's from his youth.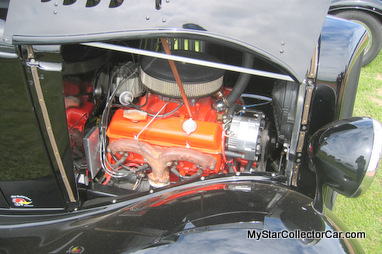 The other side of the equation is the 1935 Chevy ½ ton owned by Tom Christiansen. Tom likes his recent purchase for two basic reasons: he really likes Chevys and he really likes trucks.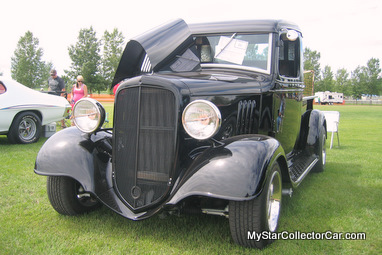 His 350-powered '35 is a great combination of style from a bygone truck era and power from today's world. Tom likes to "play with it", so he finds any reason possible to put some time behind the wheel of his Chevy truck.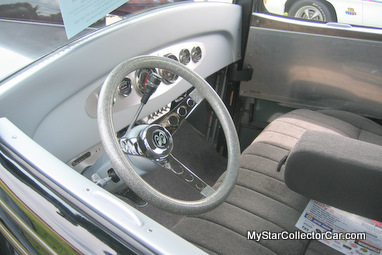 Coincidentally, the road often leads him to the same place as Theron when it comes to car shows, so the dynamic truck duo often share center stage together at the events. Who said that Ford and Chevy just don't play well together?
Not these two guys.
Jim Sutherland
Many more car and truck stories at –https://www.mystarcollectorcar.com/