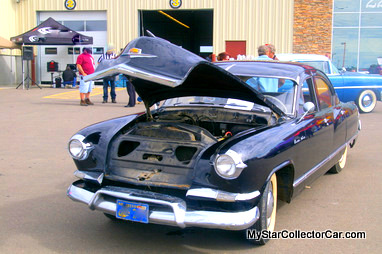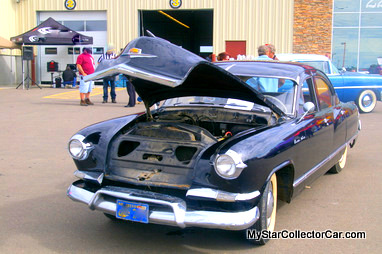 There is one thing that becomes obvious when you see a 1953 Kaiser at a car show: it may be a simple hallucination because these vehicles were not plentiful during their production years.
Not plentiful in a list of-good-reasons-to-attend-a-Justin- Bieber-concert-sense.

But Herb Laviolette has added one of these rare beasts to the lengthy list of reasons to attend car shows.
Herb loves his Kaiser Deluxe because it is a unique vehicle built by an independent car manufacturer. We took a wild guess that Herb is a pretty independent guy who marches to the beat of his own drum and, when he isn't marching, he's driving his Kaiser.
Herb has a thorough knowledge of the Kaiser brand, particularly as it applies to his year. The Continental engine in his Kaiser was built primarily for farm equipment, but it is a solid runner in his Kaiser.
Herb drives it at around 50-60 mph because he is never in a big hurry behind the wheel of his car. It has an overdrive gear and could easily run faster but that is hardly the point of the exercise for the road trips.
Consequently, all Herb needs is to arrive in style and his Kaiser has plenty of that in ample supply.
Kaiser had a few unusual features that included a pop-out windshield and a passenger-accessible hand brake in case of emergency. Maybe the passenger would be able to avoid hurtling through the pop-out windshield because of access to the hand brake.
The vehicle has all of its manufacturer documentation- plus the original owner's personal manufacturer documentation-including his birth and death certificate. It should be noted that most concours class car shows do not require the original owner's personal manufacturer information to win best of class.
Herb used his Kaiser as a commuter car one summer, but it still has only 63,000 miles on it. Not bad for a car pushing sixty.
We anticipate that Herb wants to live a long and happy life with his 1953 Kaiser.
He didn't tell us whether his own personal manufacturer information would also go with the car to the next owner.
Jim Sutherland
More-much more at–https://www.mystarcollectorcar.com/