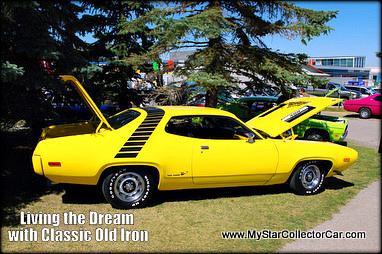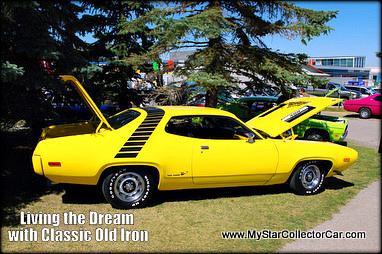 Even Jay Leno doesn't own every old car on the planet, although he is probably about halfway and only a hundred Vegas gigs away from that goal.
Until then, we at MyStarCollectorCar.com will continue to live vicariously through your cars and trucks-the ones not yet sold to Leno.
We see the look of happiness on your faces when you get behind the wheel of your favorite old ride and, once we get by sheer envy, we are glad to share the moment with you. That is the time when we track you down, interview you, then find out why and how you ended up with an interesting set of wheels and a charter membership in car guy world.
Many of you like to step away from the ordinary when it comes to old rides. You like a dare-to-be-different set of wheels that will invite the unchecked curiosity of onlookers and a host of questions about your vehicle.
It takes quite an effort to stand out in a crowd of vintage vehicles because every one of the old warriors stand out in any crowd of modern cars in a show-stealer kind of way, but it is done at every car show by somebody and their unusual old ride.
There is always a vehicle at a show or on the street that was not made in abundance, loved in abundance, or saved from the crusher in abundance. These classic old geezers are often a pretty cool addition to a car show, but they were likely considered very uncool when they initially left the dealership in a bygone era.
We at MSCC love these kinds of unusual car show attractions. We want to shake the hand of the current owner and share in his or her moment of pride and joy for their purchase or restoration of a forgotten and unloved old car. They have saved another vehicle that fought long odds to make it to 2012 as a car instead of a Kenmore washer.
To watch the owners and their old four-wheeled companions together at shows is to share in their moment of unbridled joy and that is worth every second of our time when we introduce ourselves to the happy owners.
The owners are rightfully proud of their accomplishment, whether it is the thrill of the hunt for a hard-to-find set of classic wheels or the final result of a big rusty jigsaw puzzle that has been put back together again with all of the original pieces in the right places.
MyStarCollectorCar is very happy to share that moment with them.
Jim Sutherland
Have a look at some great car stories via this link-https://www.mystarcollectorcar.com/2-features/stories.html