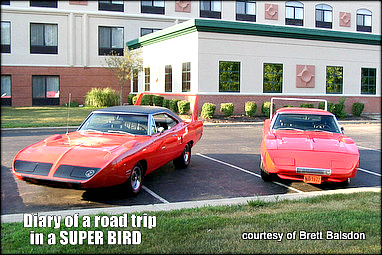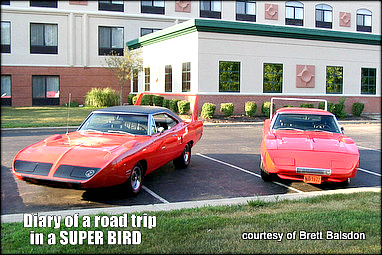 Many guys who own wing cars like the Plymouth Super Bird or Dodge Daytona treat them like the Mona Lisa.
They imprison them in a controlled environment with very little exposure to the real world.
That attention to preservation works for a priceless pieces of 500 year old art but these wing cars were built for fun …and NASCAR regulations.
Locking a Super Bird up in a climate-controlled garage for years is like penning a gazelle in a 6-foot by 6-foot chicken coop – it's a crime against nature.
Fortunately owners like Brett Balsdon believe in this basic motto, "if you don't drive it, don't own it".
Brett went to extraordinary lengths to live by that code during a marathon 3000 mile trip in his Super Bird from Calgary Alberta to Indianapolis Indiana for the Brickyard 400 and he kept a log of this marathon in his own words, "This is a road diary of my trip to Indy and back, in point form. I had a blast on this trip with no complaints at all. The trip dates: Leave home July 26, 2011 – 0530 am. Leave Indy Aug. 1, 2011 – 0500 am".
The first part of the trip was very familiar to a guy from Alberta so it was basically routine with one exception at the United States border at Coutts, Montana, " Left home, drive uneventful except border town Coutts has no gas. went thru border at 0900 am with no problems. Got gas in Sweet Grass Montana – finally some good gas."
The next leg was fairly uneventful, "made it to Great Falls and around the Lewis & Clarke Forest".
However, Montana weather left an impression on Brett, "heading for Billings – had to pull over for storm cell – no vision, found Billings and boy it's hot".
Harley owners will recognize the next stage of Brett's Super Bird marathon, "went past Sturgis S/D around 2100".
A wing car is a freak show on the road as Brett explained, " Drove on to Rapid City with lots of honking and waving".
These Super Birds are rock star cars and Brett admitted that he liked the attention but a time crunch prevented any real discussion about the car at any pit stops, "it got so I'd jump out, pump gas, push through the crowd around the car and take off because I didn't have time to talk at a gas station or I'd be there a long time".
Despite the push to the destination Brett was realistic so the marathon did include rest stops when they were necessary as Brett recorded, "pulled into rest-stop somewhere on I-90 around 0300 am, woke at 0600 am and took off again with sun up".
Mid summer heat is ferocious on the prairies and Brett's Super Bird is non A/C, "I-90 east oh yeah! You thought it was hot before?? Smoking hot, had to rip sleeves off t-shirt".
Despite the intense heat, Brett was still on schedule, "on to Iowa and lots of corn and onward to Minnesota with lots of wind turbine farms and corn."
Brett was knocking down states like bowling pins at this point, "now I cruise into Illinois and see a sign, 177mi to Chicago – I grab the map to double-check my position".
The end was near, "woohoo, Indy – oh no!, construction and it's dark, ok I made it".
The return trip was more familiar but it was still an iron man feat, "left hotel and after 500 miles temp started to drop off from max – kept driving. Corn looks the same going west as it does going east, wind turbines seem to be multiplying. Stopped for gas in Iowa somewhere".
The big Super Bird was a celebrity at every mile, "holy crap, a guy just slammed on his brakes doing 75 mph so he could get a picture of the Bird – hope he doesn't put a donut on my door".
Old cars always contribute to new road adventures and this Super Bird marathon was no exception, "clutch linkage is screwing up again. I sped on to Sioux Falls, sun is setting and I keep the pedal down – engine running cooler".
Weather was always a factor, "heading for Rapid City – three big storms to south, west, and north, big light shows, the road seems to go thru a gap in the storm cells and no stopping now. Here's Sturgis and I turn off my friend I-90 for Billings. Now it's really raining and I stop to wait it out. Starting to get light – take off again".
There was element of mechanical suspense for the whole trip, "here's Billings – clutch is worse. Stop for pee break and can't get 1st or 2nd – take off in third – Bakelite smell. Make it thru Great Falls – torture clutch".
Brett was Alberta bound at this point but the adventure continued, "running for the border, stall it 2 cars from border wicket, can't get it going, 3 border guards come out to find out what gives then push me over the border and give me passport control in parking lot".
Necessity, experience and grace under fire are the keys to any adventure with old iron. Brett passed the test, "adjusted linkage again and tried to boost, battery cable melted off, find close by NAPA and secure parts, back in the saddle and running for Calgary".
The trip ends the way it began, with uncertainty, "almost home – loud bang and drive over something – now I'm vibrating but I keep my foot in it-OK I made it".
The key to any good story is to actually have a good story—Brett had a good story because he didn't stick his rare Mopar in storage. He showed it to the world on the road where cars like this belong.
Imagine this Super Bird story without the marathon road trip…
Brett is a member of Nothern Mopars- http://www.mopars.org/Home_Page.html

Jerry Sutherland
Follow us on Facebook at-http://www.facebook.com/MyStarCollectorCar
Follow us on Twitter at- https://twitter.com/#!/MyStarCollecto1