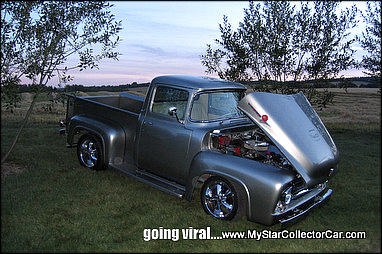 "Going Viral" is all about the context of the term.
A contagious viral disease that wipes out half of humanity would most certainly be an unhappy consequence of the term, although it would solve any over-population issues for the foreseeable future and there are a few reality stars that we would not miss very much if they succumbed to a plague.
Truth is that "going viral" under these conditions would be a very tough sell.
=
We have chosen a different way to go viral at MyStarCollectorCar. We have now had a million visits to our site, but now we want to take our game to the next level and you can help us get to that next level. We ask that you pass this article along to everybody you know via your social contacts and we do it for the noblest of reasons: giant egos.
We believe we have the best collector car e-zine available on the planet because we address the biggest and best reason for ownership of the old iron: sentimental reasons. We always ask why people own their old vehicles and the story we want is the emotional bond between a set of wheels and its owner.
That is what we do best at MyStarCollectorCar.
We want to find the humanity in old cars because that is what we like about the hobby. Maybe your Dad owned one, maybe your Granddad owned one
Or maybe somebody in your neighborhood owned one and the cool car was the only thing that made them even remotely cool.
There are countless emotional reasons that people invest in the old car hobby and that is the angle we seek in every story. We spend a great deal of time exploring the people angle to our stories because we believe that personal story is more important than the horsepower story.
So let's make this happen. There is a 100% chance that somebody within your social circles, whether they come through Facebook, twitter or email, is a dyed-in-the-wool car guy or girl. Send this email out to everybody you know and give them access to a car site that is more about people than cars in the big picture of its philosophy.
We want to everybody to meet on our site and you can help by sending out our message. We now have thousands of photos, car/people stories and opinions to show off at MSCC.
Those of you who have dug a little deeper into our e-zine will already know that we have a ton of car stuff to show off to the world.
Our modest goal is another million visitors to MSCC in a fraction of the time. We can achieve that goal very easily if you help us via your contacts. That is how we want to go viral and get our message to people who have never even heard of us before you helped us.
This strategy is very important to us, so we ask you to give us a hand to get our message out to everybody that you know.
Sincere thanks;
Jim and Jerry Sutherland co-publishers mystarcollectorcar.com