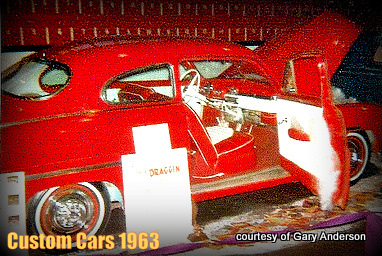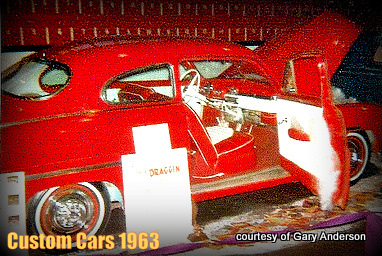 Last year we did an in depth story about a local 50's and 60s car club called the Igniters.
It was a look back at the hot rod pioneers who inspired the next generation of car guys to follow them in the same fast lane.
One of the by-products was a rare glimpse at some of their rides from the days of their hot rod youth.
The Igniters used to hold an annual indoor car show every spring in the local hockey arena to celebrate the return of better weather and bare pavement for smoke shows.
The photos included in this feature were circulated among the local car guys via email (which is even faster than any balanced and blueprinted flattie from their hot rod pasts) and sent to us by Gary Anderson.
He is still well connected with his car guy brethren from the early days because the bonds of friendship run very deep for car guys.
The cars are highly representative of the custom car style from 1963. The cars were likely to sport whitewalls and the roof lines did not undergo huge chops like some of the current customs.
The '47 Ford (originally built by Laurie Anderson and Gary Anderson in Gary's father's garage) had stacked headlights that were slanted inward toward the grille, a very cool custom feature that began during the early days of custom cosmetic surgical enhancement.
The blue '34 Chevy coupe was a classic example of a custom build from the past. The three deuces carb setup and the headers suggested that this rod was fast-and the seatbelts suggested that its owner was well aware of that little factoid.
The Model A rod in the background was another local car that was a great example of the Model A's prominence in the early 60s car culture.
The 1949 Mercury pictures are also from the '63 show and were submitted by its then- owner, Dave Savage. Dave's Merc was one of four rides entered from his club (the JAYHAWKS) in the 1963 car show.
Last, but certainly not least, was the bubble-roofed car in the photos. Gary and the boys were not sure who owned this wild custom job from the golden era of custom magic.
We're gonna go with George Jetson on this one.
Jim Sutherland
For a look at the Igniters story please click here-https://www.mystarcollectorcar.com/2-features/editorials/1199-the-igniters-a-fifties-hot-rod-clubs-legacy-will-live-forever.html 
More cool car stories at—http://www.youtube.com/watch?v=KPvsvU2_2xQ