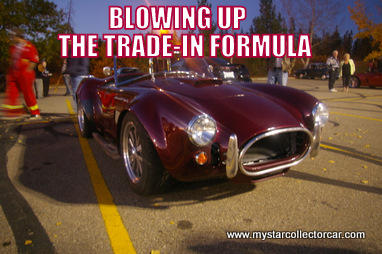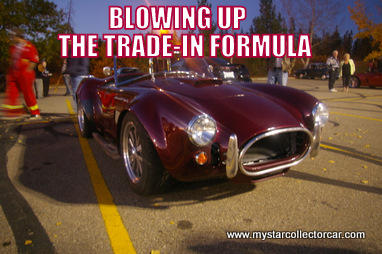 Even non-automotive retailers (a.k.a. the public) know the car retail industry is based on some fairly simple formulas.
You price out a new car and trade in your old car-the old car is assigned a value based on sources like the NADA guides.
You can get a ballpark figure with a little research on the Internet.
That value is deducted from the negotiated price for your new car and it's pretty basic arithmetic.
It works pretty well with normal vehicles like a 2005 Ford truck or a 1998 Honda Accord with average mileage on the odometer.
But what happens when somebody comes in with something really strange or unique as a trade in?
Most dealers have had to deal with odd trade-ins in order to make a sale or to placate a long-term customer, but it's not something they like to do on a regular basis.
It's right up there with the prospect of bi-weekly root canals.
We talk to car dealers on a regular basis and one of the guys we see is Daryl Czuy. Daryl owns a business called The Innisfail Truck Ranch and he definitely doesn't fear the odd and unique variety of trade-ins.
Sometimes it's the heritage of the vehicle that makes it unique. For example Daryl bought a Cadillac Escalade at an auction- there's nothing truly remarkable about that.
Until, as Daryl reported, "the new owner uncovered some paperwork in the glove box that listed Hollywood actor Bruce Willis on a lease agreement". So instead of driving the Caddy directly to the nearest Barrett-Jackson auction, Daryl watched a very happy customer drive away in his new famous celebrity vehicle.
Another interesting vehicle came from a really young guy with a brand new Hummer-he was getting rid of the giant SUV after he won it in a "Call of Duty" video contest in Las Vegas. The big brute scared him and he wanted something smaller and more practical so the lesson was that he could walk the walk in video land.
But real military machines like the Hummer were another story.
Sometimes even professional dealers have an Achilles heel. Daryl's weakness is simple- he's a "more power" guy so when somebody brought in a monster Cobra replica with a 640 horsepower big block as a trade in on another Hummer – Daryl didn't even blink. He took the Cobra.
But Daryl's business is based in Innisfail, Alberta, Canada and that particular day the temperature was –38 so no smoke show with the Cobra. In fact he only did one smoke show – "it was just wild", in his own words.
There's a simple ending to this car guy meets monster Cobra narrative- the car was gone before the snow melted. Daryl the business guy overruled Daryl the car guy.
One of Daryl's most memorable trade-ins was an older Chrysler Intrepid with a mere 3000 miles on the clock. These are the toughest trade-ins for a few reasons-the biggest one is that it's an older Chrysler Intrepid, not a vintage Chrysler letter car but the owners of cars like this often get delusions of grandeur. Many retailers won't touch an extremely low mileage older car .
Daryl looks at things like that and doesn't worry. He goes through a process "I lay out the evidence to prove it and I can get the original owner to call and verify the mileage". It's lot more work than a typical trade in but sometimes Daryl simply wants to see a 3000 mile Intrepid in real life. These deals are time consuming, but like most dealers Daryl has an inner car guy.
And an inner motorcycle guy…he's not afraid of 2 wheels and he's taken in several custom Harleys and the odd Ducati as trades.
As you can see there's a formula to the car retail business but it goes slightly askew when you factor in 640-horse Cobras or 15 year old 3000 original mile Intrepids as trade ins.
Jerry Sutherland @mystarcollectorcar.com