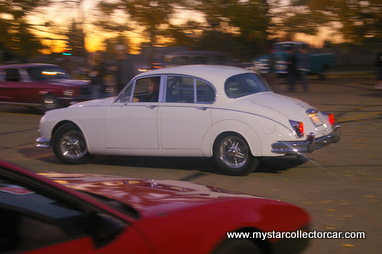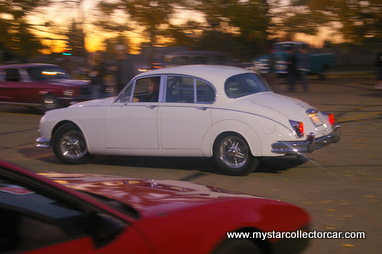 Classic British sedans are rarely given nicknames because they are typically owned by guys who like the quiet dignity of these cars.
If they do earn a nickname it typically has a "butler-ish" tone to it-something like Alfred or Reginald.
Never Kelly.
But this 1962 Jaguar Mark II is called Kelly for a very good reason and to make the story even more mystifying…
Kelly was a true red white and blue Chevy guy.
The story begins with Devon Swainson. He's a recovering American muscle car guy who developed a big affinity for Jaguars-in fact this Jaguar was one of the first Jags that he that ever bought thanks to his friend Kelly Anderson. Kelly, the hardcore Chevy guy, had developed a long-term fondness for this era of Jaguar.
The reason was pretty basic-when Kelly was entering adolescence, a neighborhood high-schooler owned one of these classic Jags and he was a local legend with the women. That car left a big, lifetime impression on a young car guy named Kelly Anderson.
The Jag's social image stuck so when this car came up for sale Devon took his buddy Kelly's advice and bought this 4-door Jaguar. Since then Devon has gravitated towards sportier Jags like the XKE and others but he never regrets buying this Jag first.
Devon loves this old Jag and he plans to keep it for life but he would like to upgrade the touring car to a point where "it would be neat to haul a 1962 Airstream trailer". Like most car guys, Devon revels in the era and lifestyle of the old iron but it would require some upgrading. Devon reports that "the motor is a little weak" and he "might put a 700 R4 transmission in it for the overdrive" to help handle the extra load of the trailer.
Kelly Anderson would have liked that GM retrofit but unfortunately he passed away in 2007 after a short battle with cancer. That's why Devon saw the nickname Kelly as a fitting tribute to a legendary car guy even though the Jag is light years away from a '69 Camaro. Devon plans to merge the Chevy-Jag concept in a very unique manner "I'm going to get a front plate that says "Kelly" with a "Leaper Jaguar" leaping through the "Chevy Bow Tie" if there is room on the plate".
Anyone who knew Kelly Anderson soon realized that even though he bled General Motors-he was a fan of everything with 4 wheels-especially 1962 Jaguar sedans from his formative years.
That's how "Kelly" the Jaguar Mark II got its name as a tribute to a Chevy guy.
Jerry Sutherland @ www.mystarcollectorcar.com