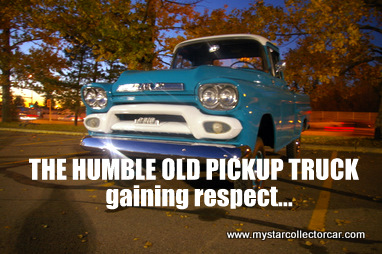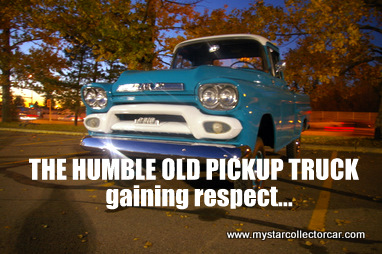 The newest trend in valuable old iron is the classic pickup truck.
The non-slammed, original mill (probably a six-banger) three-on-the-tree old classics have really taken off at vintage vehicle auctions.
We want to explain why these trusty old steeds have gotten to be a good investment.
The first reason is that there are fewer of these workhorses left in today's world. They led rough lives of hard work and received little love in the working- man's world.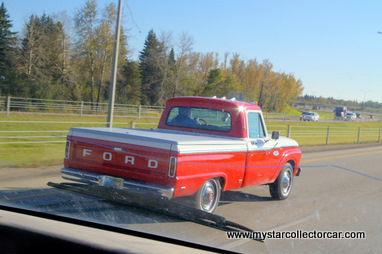 They were tools of the trade on farms or ranches, and they were part of the operation. They were never designed for a pampered world of city folk use.
So they served their time and eventually they were traded off for something newer and less scarred up by a rough life. Or they were dragged to a lonely part of the farm where old equipment is sent to rust in peace.
These days the old guard pickup trucks have a big fan club because they are a direct connection to a bygone era of rural life. The image of hard work and values has always been associated with farmers and ranchers. They don't work by a clock- they work by necessity and what has to be done. You can't postpone calving season anymore than you can prevent a hailstorm or drought.
That is why we respect the rural life. These people are Mississippi gamblers 365 days of the year because it comes with the territory. Sometimes the reward for all of that hard work is simple heartache when prices fall, or frost comes early.
The old pickup is a staple in any movie that portrays a hardworking guy who leads a simple but honest life. The old truck is part of the image in so many movies that want to say that the good guy wins- if he is true to his values. And an old pickup conveys this message so well.
The old pickups that have been restored to showroom condition will rarely see another day of back-busting work. Their new job is to remind us of a bygone era of values and un-pampered worlds. People are willing to pay serious cash to own an original example in their collection.
It is a small price to pay for a connection to our rural roots.
Jim Sutherland @mystarcollectorcar.com