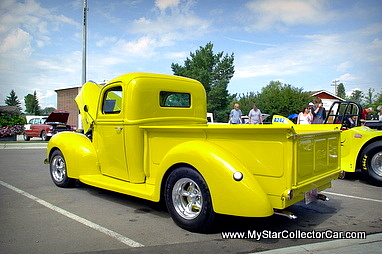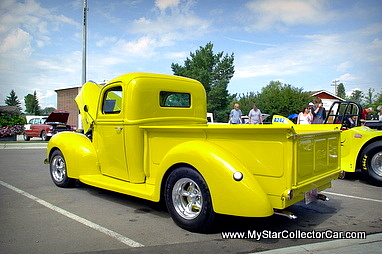 Most car guys know the financial pain and the length of time it takes to build a decent custom ride.
Some projects are written in the stars but many are like this '41 Ford pickup where the process actually took eight years.
In this case, the gain was worth the pain because this incredible truck was done in 2009.
Tony Wilson started this old Ford truck project back in 1998 when he picked up the old ride from a local hot rod guy. He admitted, "I always wanted one when I was a kid". That is the most common form of motivation in the world of car guys.
Trucks are one of the most popular segments of the vintage vehicle hobby and early 40s Fords are one of the most distinctive and sought after models in the game.
Tony took this project on from the start,"We got it as far as we could then I sent it to a hot rod shop". Discretion is clearly the better part of valor.
Projects like this involve large pieces of bigger puzzles and this '41 Ford was no exception as Tony explained, "There are fenders and things from five different trucks went into this one. Oddly enough the front fenders are fiberglass.The bumpers were redone and re-chromed too".
This is a typical power train combination, "It's a 350 Chevy Turbo 400 because the Ford small block was too big so I went Chevy". There are other fairly standard modifications as Tony added, "It's got a Mustang II front end and a 3:80 rear end so it's turning 3000 rpms at 60 miles per hour".
This particular '41 Ford is a great example of how a patient approach to a project can result in a show worthy ride but Tony is the kind of guy who likes to drive, not park his ride.
Most car guys support this attitude but they also recognize the risks associated with life in the real world. Tony knows that risk all too well as he recalled, "The 1st time I drove it to town a guy ran into the fender".
The damage wasn't enough to raise serious concern at any decent body shop but, as Tony explained, "It's special paint. You can't just get it fixed so I gave him the bill and he flew off the handle. It was 1800 bucks and he told me there's no way it could cost that much".
There's no question the guilty party was not an experienced car guy.
Tony is a busy man so he admits, "I don't have a lot of spare time so it's only got about 3000 miles on it since it was done. So far the longest round trip is about 80 or 90 miles but I do get a lot of thumbs up when I drive it".
This '41 Ford has been a long, arduous and time-consuming task but that's the standard playbook for most projects. The key is to pinpoint why you take on a job like this and Tony is unapologetic about why he built this classic Ford truck.
Tony is clear on that issue, "I'm going to hang on to it forever, it ain't going anywhere".
Jerry Sutherland