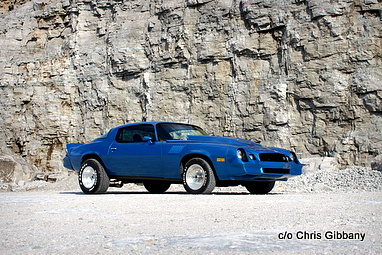 Chris Gibbany is extremely proud of her 1978 Camaro Z28 for many reasons.
Two of the reasons are obvious-this is a car that oozes early 70s cool plus it's a street monster.
The biggest reason for her pride in this classic is Chevy is found in two words….hard work.
Chris sent in a brief biography about her '78 Camaro that began with the "why" part of the story, "My name is Chris and I am Chevy addict. This is the story of my 78 Z-28 I call Mean Streak.
Chris didn't have a Barbie Doll collection when she was a young girl. She went in a different direction as she explained, "Ever since I was a kid I have been obsessed with cars- mainly Camaros and Corvettes. I collected them in Hot Wheels and Mattel versions, I built models of them and I dreamed of one day owning a Camaro, specifically a late 2nd gen Camaro".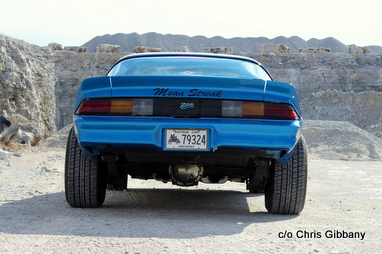 Old cars are a huge investment and Chris knew that the key to success was a large bank account. She started early, "When I was a kid we were offered a candy bar a day or the money equivalent. I ALWAYS took the money, my brother always took the candy bar. I had a savings account as a young kid, picked up, smashed and sold aluminum cans and took care of all of my clothes and toys so that when I got tired of them I could sell them at a yard sale. I put all of this money into my savings".
Chris stuck to this conservative fiscal plan into adulthood, "I went to college on scholarships and also worked full time. After my tuition and books were paid for, I stashed all of my extra money into my savings account. I was the ONLY student who took their lunch with them each day, while everyone else, including my friends were eating at the local McDonalds or Dairy Queen".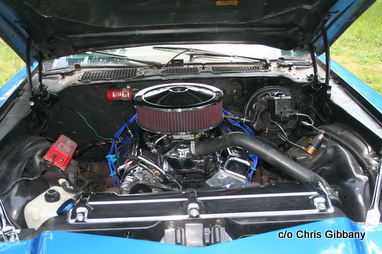 The savings plan worked, "I bought my first car (with CASH), a black 1978 LT Camaro in 1992, as I did not learn to drive until I was in college. The very next year I bought my 1978 Z-28 (with CASH) . I was working at the local Ramada Inn, cleaning rooms when I had found it in the classifieds section. I asked them if they would hold it for me until I got off work that day, and all day at the motel I was calling them to make sure they still had it. The car was 2 hours away and luckily they did and my friend and I took my black Camaro down to get it".
The learning curve is fast and steep in the world of old iron," It was pretty rough to say the least. The interior was totally ragged out of it but it had a brand new paint job on it. I would later learn when I went to wash it that the rag would turn BLUE! The car also had big old truck tires on it. I went ahead and bought it for $1800- mainly because I wanted another 78 and I wanted a Z-28. I made my friend drive it because it would only run about 35 with those tires on it. To this day she STILL remembers that!".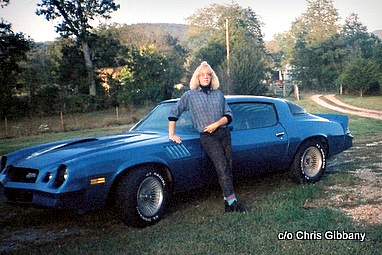 Chris did a serious inventory, "After I got it home I made a two page list of what all it needed. After getting new tires on it and a new interior put in, I drove the car to college when not driving the other 78. I was the only girl (or guy) who owned 2 Camaros while I was in college. I also got them published in "All Chevy" magazine in 1993 which was a total shock when I went into the local Harps, picked up the mag, and my cars were in there!"
Typically, no car project or life journey stays static and this was was no exception as Chris explained, "Owning the car for over 20 years it has seen a lot of changes. The majority of the work did not come until I married my husband Gabe (10 years ago). When I met him I told him I only cared about cars and bikes and he was down with that. I told him what I wanted in the car and we proceeded to making it happen".
The key to success is a clear game plan and this Camaro had one-more power,"I had been drag racing the car for years when it had a 327 in it but it wasn't FAST! We decided to put a 383 in it, which I did all of the assembly work. We added Dart 230 cc aluminum heads (that was a HUGE goal of mine), Victor Jr intake, 850 Demon carb, MSD pro billet distributor with 6AL and Hooker comp headers. The motor has 11.5:1 compression, a 306 flat tappet Competition cam and 1:6 full roller rockers. It uses a Scat crank, flowing through 3" exhaust with 2 chamber Flowmasters. The transmission is a Turbo TH350 with a B&M hole shot 3000 converter. Shifting is done with a B&M mega shifter installed in the factory console. A lightweight aluminum driveshaft is also used. On the rear is Lakewood lift bars, sub-frame connectors, a 8.5 10-bolt with spool and 4.10 Richmond gears. It also sports 4 wheel disc brakes since pushing 500 hp @ 6300 rpm requires a good braking system".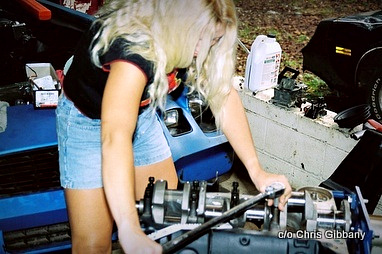 Chris migrated closer to the automotive world in her career and hobby life, "In 2005 I went to work at a local body shop. Before working there I had been sanding and preparing my car for paint. We were going to spray it but in the end I paid them to paint it the original color. At the same time, my husband and I started a local Camaro Club- North Arkansas Camaro Club. We wanted to be able to get everyone together who loved Camaros. I applied and became the Arkansas State Rep for the Camaro Club through Eckler's. While we were leading the Camaro Club, we took the members to the dyno and put on several events including Burnout Contests, which I came in 5th the year I entered. I only came in 5th because I had a manual fuel pump and it couldn't keep up. I literally ran out of gas!".
The car world is incredibly positive but it does come with a price,"I continued to race the car for a few more years but it really just got too expensive. We only make $20,000 a year so we have to be selective and FRUGAL to what we do. Since selling my other car, a 1981 Corvette that I owned for 13 years, this is now the ONLY car I have to drive. I usually go to town once or twice a month and driving it DOES make me feel like a rock star and when I go into stores I fell like George Thorogood is playing "Bad to the Bone". I just bought a 1974 Dodge Charger to restore and it will be coming back out in Plum Crazy Purple attire. Since my hair is always pink and purple, it will be a great match!".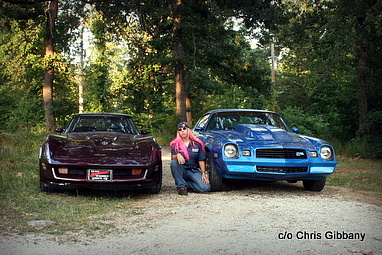 On a side note, we both ride vintage Harleys that we build. Gabe is an ASE certified master mechanic. I am learning to weld and pinstripe. I have done a lot of the work on my '78 and with his help, we have made it into the car I always wanted".
Chris is an incredible money manager and it shows in her car inventory, "My whole life I have only owned Camaros and Corvettes, until 2 days ago, that is! I have owned a total of 8 cars- 5 Camaros- 78 LT, 78 Z-28, 79 Z-28, 81 Z-28, and an 86 Z-28 and 3 Corvettes- the 81, a 75 Stingray (a 4 speed car I learned to drive a stick in- bought it without being able to drive it) and a 1980. I have owned 10 motorcycles, presently having 4 of them now. At one time I owned 5 cars- 3 Camaros and 2 Vettes and that was really just too much to keep up with in conjunction to what Gabe owned, not to mention, EXPENSIVE!".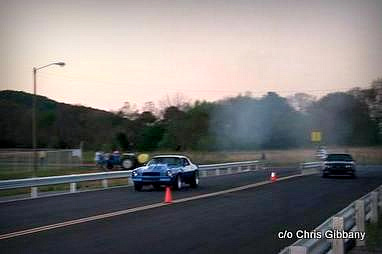 Owners often nickname their cars, "I call my 78 Mean Steak because I am a HUGE AC/DC fan and on my other 78 I had "Back in Black" vinyl on the back of the spoiler. It was black and the song just fit. Mean Streak is another awesome song and let's face it, with almost 500 hp it DOES have a Mean Streak".
The car hobby is often labeled as a high-end adventure because of big-buck auctions but Chris wanted to emphasize that motivated people can enter and enjoy this world at any income level, "I hope my story can inspire others who have lived or are living similar to me. I have not had ONE thing given to me. My parents didn't buy me a car, pay my insurance or gas or help in any way. I have worked minimum wage jobs my whole life and have been self employed for the last 6, earning WAY WAY less than minimum wage".
The Camaro keeps her grounded, "I have my priorities straight. Cars and bikes are what mattered to me as a kid and they still are the only things that matter to me as a 40 year old adult!".
Her marriage is another huge factor, "My husband is currently building a 1972 Plymouth Satellite. He is definitely my "soul mate" as the only things he cares about are cars and bikes too. (If I die the car will obviously go to him. If for some reason he goes first, I hope to leave the car to someone who will love it as much as I do.) ".
*I would like to thank Valley Springs Quarry for letting me shoot my 78 there. I appreciate them very much as they provide an awesome background."
Cars are so intertwined with life that they become part of the narrative-clearly Chris had a great story to tell.
Jerry Sutherland