We never asked Brent Weidner whether he was a fan of the TV show 'Get Smart' when we interviewed him about his 1971 Volkswagen Karmann Ghia.
The unusual sports car from VW was the second car driven by Maxwell Smart in the TV comedy.
The Karmann Ghia was produced from 1955 to 1974 by the people who brought us the Beetle.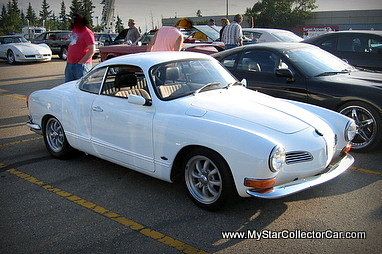 Karmann Ghia was Volkswagen's answer to the 1950s sports car equation, in particular the Porsche 356 Speedster made famous by James Dean.
The Karmann Ghia was not exactly lightning fast when it debuted, but it looked cool and it gained some speed by the time the 1971 model rolled around for the VW sports car.
Brent explained that he always loved Porsches but the Karmann Ghia was "all he could afford" when he bought it 20 years ago. It was pretty obvious he had grown quite attached to the car through the years and it is doubtful he would choose to upgrade to a Porsche at this point.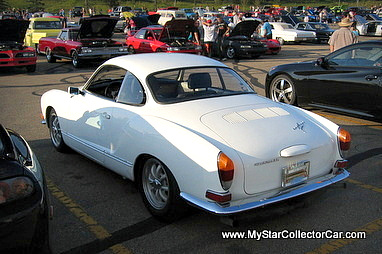 Brent and his Karmann Ghia have put on a lot of miles together over the years, all of them during the summer when the weather is mild and forgiving for the car.
Brent comes from a family with strong General Motors roots but he was quick to tell us they are "just car guys" at the heart of the matter.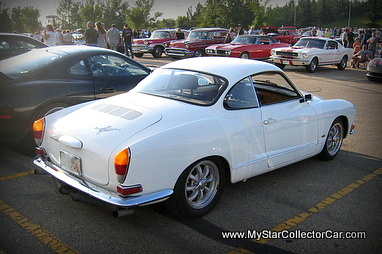 Every car guy has unfinished business with their cars because there is never really a finish line for the concept. Brent Weidner is no exception to this rule and he has his own list for the Karmann Ghia. His ultimate goal is to bring the car back to its completely stock form.
The list includes mirrors and other subtle changes to bring the car back from the future where minor owner changes were made on it since its production in 1971.
However the most important part of the equation is still time behind the wheel and Brent does as much of that activity as time will allow him every summer. He finds his highway speed comfort zone right around 60-65 mph (roughly 100km/h for metric people) and he said the little VW sports car thrives at this speed.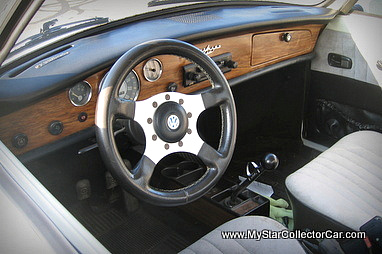 We at MSCC are always happy when we find unusual cars at shows and a 1971 Karmann Ghia is definitely a home run in that department because we do not see them very often outside of a VW-only show.
The Karmann Ghias were uniquely designed sports cars from Volkswagen that had a loyal fan club on this side of the Atlantic but they were not common even in their heyday on North American roads. They were much sportier than their terminally cute Beetle cousins and one could even say that chicks would have dug the car during its production run.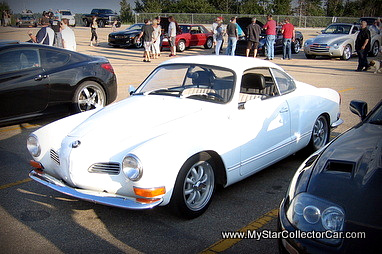 None of this had much to do with Brent's initial reason for ownership of his Karmann Ghia: that large price gap between a Karmann Ghia and its more expensive Porsche counterpart.
However it was clear to us the Karmann Ghia had become priceless for Brent over his ensuing 20 years of ownership.
Jim Sutherland