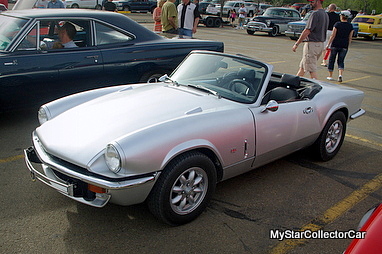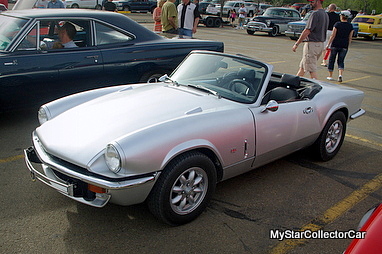 Triumph Spitfires were the more affordable younger brother of the TR series.
They're well known for their nimble performance and friendly buy-in costs.
Tom Wilson has been a fan of British iron for a long time and he was in the market for something sporty when he found this '76 Spitfire.
Tom is no stranger to the English rides as he explained: "I used to race a Mini that's why I wanted something British so I said okay let's get something British. I've actually had a Mini for quite a few years and I still have it".
This Spitfire had a well-defined ownership history: "I found it in town, she was the third owner and her husband had passed away. It was in her garage and it was covered in oil. I bought it in '98 and drove it for 4 years doing little things and then worked on it for six years".
This car was clearly a long term project but Tom made some quick alterations: "It's a '76 so the rubber bumpers were the first thing to come off".
Tom dove into the Spitfire rehab in a big way when he felt the time was right: "After four years I could barely get it up to highway speed so I stripped it right down to nothing. The engine is a '74 (1298) and it's got bigger valves. It was stripped down and rebuilt and I tried my hand at custom so I took the ridge off the trunk too plus I used half a spray bomb for hood scoops because I wanted something totally different from other Spitfires".
There were a few speed bumps in the process: "First time I took the panels I got into a few scrapes. I painted it in my garage twice, I bought a gun and after a few tries I got it done after practicing going back and forth. I just had to buff it out a bit, it's not perfect but it works for me".
This is an ever evolving project so Tom still has a significant list for his Spitfire: "It really needs a new carb plus it's running a little hot and it needs new rear shocks. There are still a lot of bits and pieces left to do and one thing missing is the top".
Spitfires are notoriously cranky machines and Tom is well aware of that reputation but he's also very realistic about his car. This is a car that he can work on for the most part and learn on the job and so far it's been a good lesson.
There's an end game to every project and Tom's end game for his Spitfire comes from his son: "He wants me to take it out to Victoria so that's why I have a luggage rack". Tom is pretty happy at this point, "We have lots of fun with it and we'll always keep it-I still have my Mini".
Tom is also motivated by another family connection to the car that may be unbreakable:
"My father in law calls it Nigel".
Jerry Sutherland
CLICK HERE to Like us on Facebook
CLICK HERE to Follow us on Twitter
CLICK HERE to Follow us on Pinterest
*Re-post if you like this MSCC article…thanks.