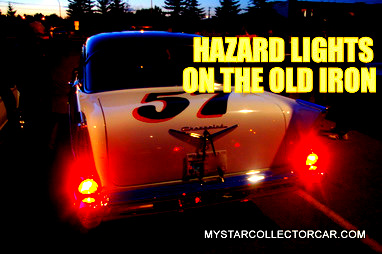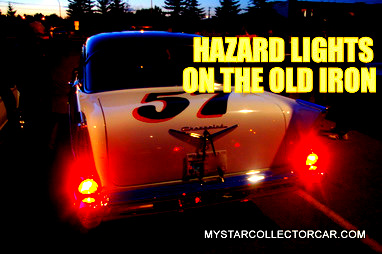 The four-way flasher feature became mandatory on all 1967 car models from Motor City.
Prior to that, a few car makers jumped the gun on the legislation and installed them a couple of years early for one very good reason-it just made sense.
Any car guy with more than ten seconds behind the wheel of a vintage ride will have a roadside adventure.
The car will come to a complete halt at the most inopportune time and the festivities will begin for the driver.
I have a long list of dead car moments in my driving history. Most of them extend from the plucky belief that an old car will never have vapor lock or a guesstimate gas gauge.
As a result, I have been left on the side of a wide variety of highways and by-ways. It is part of the curse (and occasional charm) of the vintage vehicle culture.
But the most harrowing adventures took place on the same busy roadway in my town- years apart-and with three separate vintage cars. The last one took place last summer during Friday payday/rush hour traffic in a 1962 Lincoln.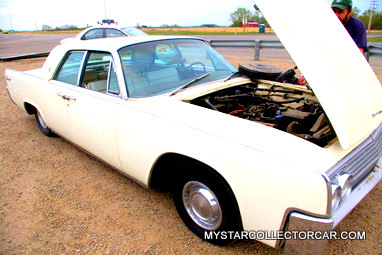 I was dead in the water at the height of weekend traffic frenzy and I thought a great deal about four way flashers and their absence in this pre-67 Lincoln.
A high curb, low ride height and huge car weight meant that Superman was one option to get the car off the roadway. He was not available, so I waited for earthly help.
I sat behind the wheel of the giant Ford and tapped the brakes so that an illusion of four-way hazard lights would tweak the cognitive skills of distracted Friday rush hour drivers enough to prevent a huge disaster.
Patience and common sense were not obvious virtues for the Friday traffic crowd. So, in 2010, sitting in a 1962 car, I dreamed of a better car world of the future (1967) where heavy-handed legislators had made the right call.
I really wanted to be able to put on the four-ways, climb out of the car, and watch from a safe perch while some idiot piled into the trunk of the Lincoln. I felt a grave concern for the car and nothing but contempt for any idiot's potential bad driving habits, but the car gods were smiling that day. Neither idiot nor car was harmed.
The four-way flasher unit was an appliance that became a popular after-market item for car guys who added signal lights to their pre-signal light vehicles. It just made sense to have the add-on signals with this extra four- way safety feature.
Perspectives about hazard lights are easy-I can vividly remember the add-on signal/hazard light device on my brother's 1948 Chevy– a car that spent some time on the side of a road back in the 60s.
So, as nanny-state legislators attempt to bubble wrap an entire car world, sometimes they do get it right.
Four-way flashers were a home run in this department.
Jim Sutherland
Read about many examples of post and pre-four way flasher vehicles at https://www.mystarcollectorcar.com/