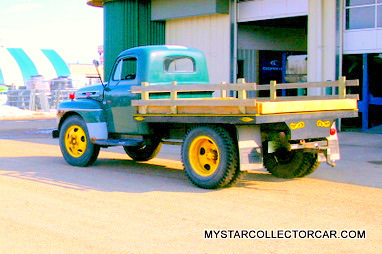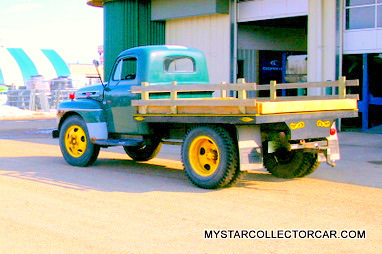 You rarely see 1948 1-½ ton trucks at most car shows-there are many reasons for that but one of the biggest is the fact that these trucks were literally worked to death.
Even rarer is the sight of one of these post war behemoths weaving in and out of daily traffic.
Rarer yet is the revelation that this is still a working truck-a Mercury truck.
Jeff Cumiskey is the current owner of this big Canadian version of a Ford truck-he pursued this big Merc for years before he could persuade a local auto wrecker to finally let go of his faithful old truck. As he says, "I chased that fellow for 2 or 3 years before I could convince him to sell". That was fifteen years ago and since then Jeff has put a fair amount of work into the M-135.
The first major work on the Merc came by misadventure because Jeff blew up the original flathead in the first year of ownership. Most Ford guys believe that he must have had a hand grenade in his pocket to blow up that bulletproof old engine but it did present an opportunity.
Jeff stuck with Ford but now the big old truck is more civilized with a 302 automatic under the hood. That has made the Merc freeway friendly-to a point. It will easily run at 60 miles per hour but as Jeff reported, "I don't think I'd take it past that point because it still has the original front end". Loosely translated, that means that 60 mph feels like Warp 7.
Jeff has upgraded all of the components on the front end including new steering box, king pins, spindles and radial tires so it is better than factory-but the Daytona 500 might be a reach for this giant old Mercury.
The truck never did retire–Jeff had a load of gravel in the back because, as he explained, "I use it for concrete work and it works great".
Give an old warhorse like this a new heart and they'll never quit.
The retrofits have caused confusion. Jeff left the clutch pedal in and kept the original stick shift so newbies behind the wheel were often found furiously pumping the clutch in an effort to get the Merc to move.
Equally confusing is the starter button. Jeff left that as functioning facet of the starting system.
Basically nobody born after 1960 can figure out how to start the old truck.
Jeff has had fifteen years of fun with the truck and now his eye is on another prize-a 1930's era fire truck that he wants to rat rod.
But for now he's still out in real traffic in a real truck…a rare, real truck.
Jerry Sutherland
For more great truck and owner stories please follow this link-https://www.mystarcollectorcar.com/3-the-stars/star-truckin.html