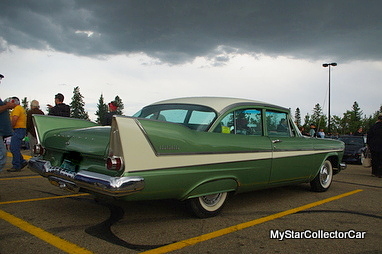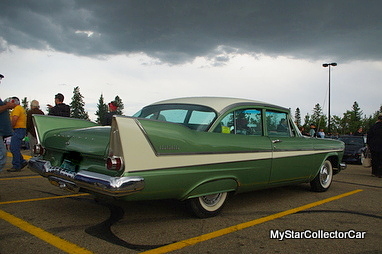 The '58 Plymouth will always be known as a 4-wheel terrorist thanks to a guy named King and a car named Christine.
In the real world, these Forward Look icons were well-engineered cars with a serious power range and bulletproof power trains.
That's why a '58 Plymouth makes a great Father's Day present.
Shawn Hodder is a big fan of the Mopar fin car era and he needed something for his dad to drive last summer so this classic Plymouth made sense. He explained, "He's going to use it as a daily driver and if he doesn't drive it, I will". That's the simple side of the equation but veteran car hobbyists know there's a lot more to an old car story than simply handing Dad the keys.
This '58 Plymouth  two-door sedan was no exception.
Shawn explained the background to his car, "This was originally a California car and it was parked in 1974 and it came back out in 2001.Then it was stored for ten more years".
Shawn learned the car was for sale and he broke a cardinal car-buying rule as he recalled, "I bought it sight unseen. I bought it for the bumper wings…just kidding".
Shawn's decision to buy the Plymouth paid off because it was as advertised, "It was nice show level car. basically ended up doing cosmetic work on the fenders and the doors".
Forward Look fin car Mopar guys know how lucky Shawn was to get a diagnosis like that because 1958 was an era where the quality suffered at Chrysler. Many of these cars suffered untimely ends thanks to rust issues so a little cosmetic work is like winning the lottery.
The real adventure for Shawn was on the road as he recalled, "I picked it up and I was going to drive it home across Canada but I got into an accident at a four-way stop. Five hundred miles later, I put it in a trailer. That's the only time I crossed Canada and I had to put this car in a trailer".
The car was repaired in time for Shawn's father to take delivery because Shawn had a vested interest in the game, "It was body work and I do body work".
Shawn's father ended up as the real winner because he's the guy who spends time behind the wheel of a 1958 Plymouth on a daily basis.
There are some repercussions when you drive a classic as Shawn explained, "He's only been driving it for a little while and he's already had three offers in parking lots. They come right up to him and ask him how much he wants for it".
Realities with a fifty-six year-old car involve old technology engines and Shawn admitted to one, "This is a 318 car but the mileage is really crappy".
Shawn has a few plans for the '58 Plymouth because, like most car guys, he has a list, "I'd like to get the bumpers re-chromed and there are a few other little things to do".
Those plans are literally down the road because the goal was simple – give Dad a daily driver. The goal was met because the car now has a name "Christine", and it is indeed a daily driver but Shawn summed up the experience in his father's own words.
"Dad said there's too many memories and it's such a fun little driver".
Jerry Sutherland